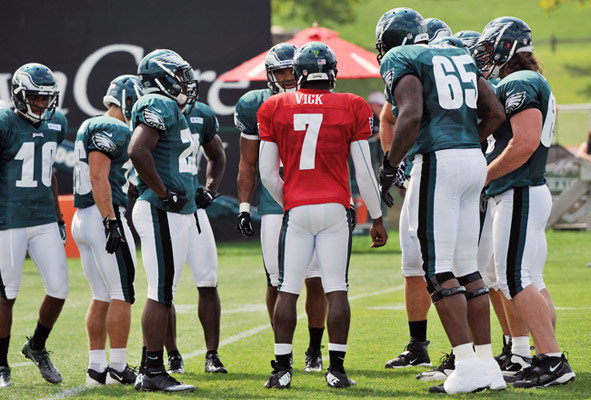 The Eagles practiced yesterday at Lehigh University in Bethlehem, Pennsylvania but starting quarterback Michael Vick wasn't able to throw the ball even though he did participate in the workout.   Backup quarterback Mike Kafka was unable to do as much as Vick..
Vick injured his left thumb when he hit on the helmet of center Jason Kelce on Thursday night in the battle against the Steelers.  Kafka fractured his left hand in the game when a Steeler stepped on it during the game.
"Haven't really tried [to throw] yet, but I'll definitely try, warm up and get it going a little bit," Vick added. "It's really nothing major. Had the same type of injury last game of the season against the Redskins last year and played with it, so I know how to deal with it."
Kafka won't be able to participate in the 11-on-11 drills for three weeks, but he will be able to quarterback in the 7-on-7 pass drills.  Rookie Nick Foles will be the second-string quarterback and Trent Edwards will likely get more reps as well.