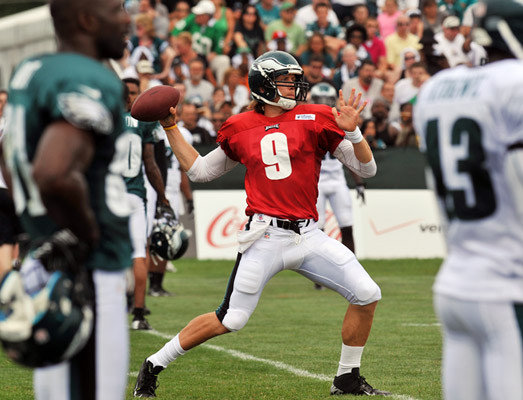 This weekend Eagles backup rookie quarterback Nick Foles continued his string of good days throwing the football.  He's getting the ball his receivers on short throws and deep throws with consistency.  It seems that he's gaining a better feel for the offense after each and every snap, so that there could conceivably be a question about who will be the Birds backup quarterback.
Of course he shocked Eagles fans on Thursday night against the Steelers backups when he threw two-long touchdown passes in the third quarter of the Birds first preseason game.
The young signal caller from Arizona University was also on top of his game on Saturday and Sunday as he worked with the second-team in place of Mike Kafka ,who fractured his left hand in the Pittsburgh game when one of the Steelers stepped on it. Kafka is now wearing a cast on it during practice and can only participate in drills which don't require him to take a snap from center.
You know Kafka has to be feeling the pressure from the youngster who out performed him on Thursday.  Kafka will miss the next three weeks which means who will probably miss the rest of the preseason games.  Has Kafka performed well enough to hold a lock on the number one backup spot.
Back to Foles, who hasn't been operating in Andy Reid's version of the west coast offense very long, but seems to have a good feel for which receiver to go to with his passes.
"The game went well, and I've had the day to reflect on it", Foles said on Saturday after practice…… "If there is one thing I learned from college, it's that when you have games like that, you always have to improve on it. I'm not satisfied, and there is a lot of stuff for me to work on and improve on. I'm really technical with myself and I try to look at what I could have done better rather than what I did well. Today was a good day of practice. I'll go watch the film and improve on that. Like I said, I have a lot of work to do but there is some time to get it done."
That's true, there's still time left for him to prove to Andy Reid and staff that he's already prepared to get the job done as an NFL quarterback, to the point that he should be the quarterback to take over ahead of Kafka and Trent Edwards.  The former Wildcat doesn't have a great deal of time to prove that, but the injury to Kafka will give him more opportunities within the next three weeks.
I know Foles was very highly touted out of college, but Reid and Marty Mornhinweg liked the way he was able to keep executing and refuse to panic despite the fact that he had little talent to work with during his college years.  The young man was able to stay poised and focused despite a poor offensive line working in front of him and lack of speed and talent in his receivers during college.
It's still very early, but I did like the way he kept his eyes down field with his TD throw to Damaris Johnson.  Mardy Gilyard was really covered on the TD throw to him, but Foles made the throw where he should have to the backside shoulder.
I also like the fact that not only does Foles understand he's got a lot more work to do, he knows what kind of work he needs to be doing.
"Just when – for example, the defense is giving us something like a run play and the defense is showing that they know it – it is my job as a quarterback to help us get out of it", Foles said. "There are different things like that.
The marquee quarterbacks in the league can run an offense where they call the play at the line of scrimmage.  Aaron Rodgers, Drew Brees, Tom Brady, Eli Manning and Peyton Manning are some of the guys on that list.  Foles seems to realize how important those seconds which tick off between the time you come to the line of scrimmage and when you snap the ball.
An NFL quarterback has to master both the physical and mental game in order to be amongst the top quarterbacks in the league. We're seeing that Foles has some potential to develop into a quality quarterbac, which is the reason the Eagles drafted him.