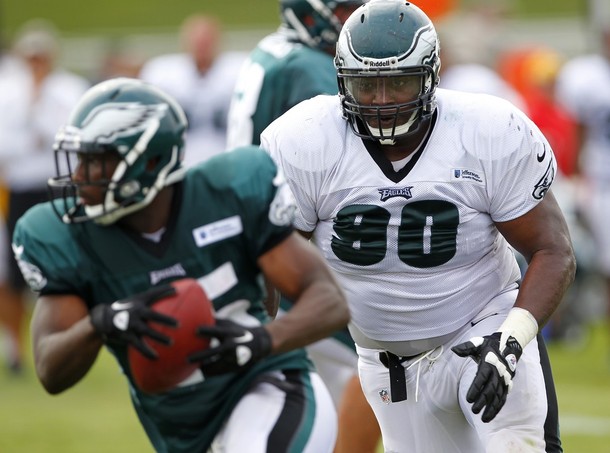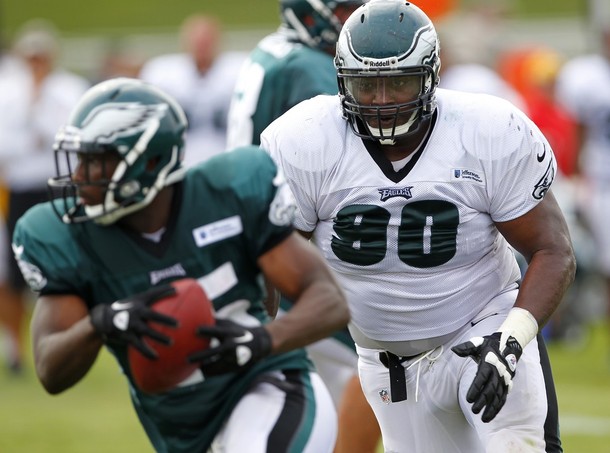 Tomorrow night's game between the Eagles and New England Patriots will give us a good look at what's happening in a number of areas on the defensive side of the Philadelphia football team.  Tom Brady and the rest of the Patriots offense will test the Eagles defense and help us find out how far Juan Castillo and his defensive players from being ready to start the season.
The strength of the Birds defense is their pass rush and Brady's ability to get rid of the football could limit the pass rush's effect on the game.
Right now, Darryl Tapp, Phillip Hunt and Brandon Graham are battling at the Eagles defensive end position.  I know they're all going to be trying to keep their jobs on the Birds, but they all need to play well for other teams who will be watching the tape.  There's no way the Birds can keep all of their defensive end talent, so at least one of these defensive ends is going to be released and likely playing for somebody else.
I think Tapp is the odd man out because Hunt and Graham have out performed him during the camp.  He's been playing well, but Hunt and Graham have been consistently outstanding.
On Monday night they may get a chance to put together a resume tape for their next team.
Defensive tackles Antonio Dixon and Cedric Thornton are competing for the remaining defensive tackle spot and I believe Thornton is in the lead.  Dixon is a proven player, but doesn't really fit defensive line coach Jim Washburn's style of play.  Dixon is a two-gap type of defensive tackle who can dominate at the line of scrimmage and create a log jam by stacking up double-teams.  He can play somewhere in this league, but I don't think it's going to be here.
Washburn doesn't want his defensive linemen playing the game at the line of scrimmage, he wants them in the backfield.  Thornton is an explosive player, who was a defensive end, and has been outstanding so far in camp.
I'll also be very interested in checking out how the linebackers perform.  I'm still waiting to see middle linebacker DeMeco Ryans cut it loose and make a big play.  I want to see him make a big hit, get a sack or pick off a pass.  He's supposed to be an All-Pro caliber linebacker, so I want to see something.
Rookie SAM linebacker Mychal Kendricks needs to show he can keep contain by staying outside on runs his way and turning the play back inside.  He found out last Thursday against the Steelers that NFL blockers are harder to get free from and NFL running backs are faster.
WILL linebacker Brian Rolle could lose his starting job to Jamar Chaney if he doesn't play better.  He got swallowed up numerous times on runs his way and wasn't a factor when he was on the field.  Chaney will play against the Patriots and therefore get the chance to go after the starting job.
The Eagles are sure to look elsewhere for linebacker talent because their backup linebackers didn't play well against the Steelers either.  Casey Matthews is still having trouble getting off of blocks and making tackles.  Akeem Jordan did nothing outstanding in the Steelers contest.
Of course there are battles going at the safety position.  O.J. Atogwe,  Tom Nelson and Jaiquawn Jarrett will continue their battle.  Atogwe has taken a considerable lead over Nelson and Jarrett, while Nelson seems to be ahead of Jarrett.
The former Temple star and second-round draft pick needs to step up his game immediately or he's going to be unemployed.  He was drafted for his tackling ability, yet he's missed numerous tackles and blown coverages.  His time is running out.