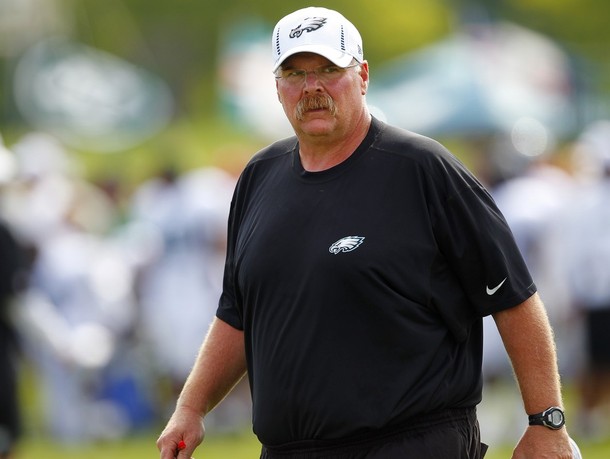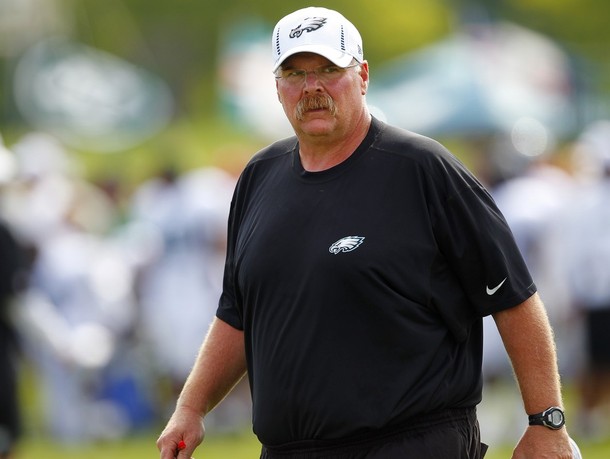 There's a sense of urgency that's building at the Eagles practices and ti's coming from head coach Andy Reid.  Yesterday I counted four-times, that Reid demanded that plays be run over during the defensive period.
This is very unusual for Reid because he doesn't normally get directly involved in the defensive part of practice.  Normally he's more of an observer of the defensive team work than anything else.
Yesterday, the big fella wanted passes from scout team quarterback Trent Edwards to be knocked down or intercepted by his secondary, not completed to the intended receiver.  If it didn't happen that way, Reid demanded that the play be run over.  On one play he demanded that it be run over a total of three times.
He was living in the defensive huddle yesterday and talking to of the players on the defensive unit.  When Jim Johnson was the defensive players, Big Red rarely talked to the defensive players during practice.  They were Johnson's responsibility and he gave the defensive coordinator plenty of room to do his job.
Yesterday, Eagles defensive coordinator Juan Castillo was on the side with the defensive players, who were waiting for their chance to get in there.  Reid who is usually anchored behind the offensive huddle and out of the way during the defensive period, walked into the defensive huddle after nearly each play during the defensive period of practice and talked to the defensive players.
This as a major step because football coaches are very territorial. Clearly Reid is concerned about what's happening with his defense and Castillo is probably on a short leash. Big Red is starting to heat up.  This Eagles team has as much potential as any of Reid's Eagles teams but they also have been mistake prone during the first two games of the preseason.
Good teams aren't usually described as injury-prone.  There seems to be a lack of attention to detail.  Yes, there's a desire to excel, but so far they lack the focus to avoid running into the quarterback too late, holding receivers, jumping off sides, or holding in pass protection.
Reid blew up the other night on the bench in New England because he knows that you can't let a team get in the habit of playing sloppy penalty-ridden football, or they doomed to repeat it when the games start.
I expect the Eagles practices are going to be very demanding from now until the season starts because it will be quite a challenge to have this team sharp despite not playing together very much in the preseason.   That's especially true of the offense with Michael Vick at the helm.  They've only played together for twelve plays.