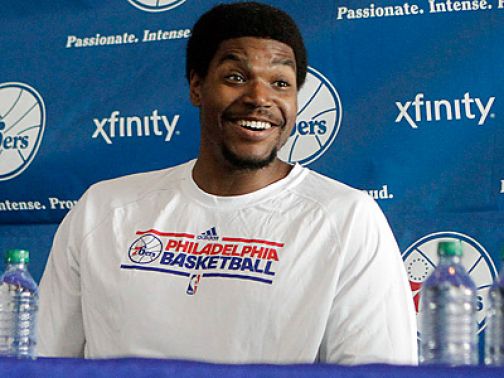 With the dust finally settling after Dwight Howard's monumental and long drawn out move to Los Angeles, it is at last safe to look back on the madness that was this summer's free agency period and speculate how teams will stack up this coming season. Being that I'm likely as biased as the rest of you Philly readers, I'll be starting with the Atlantic Division.
Boston Celtics: Here is a team that in my opinion really exemplified the phrase "addition by subtraction". I mean, it's hard to be thrilled that a class act and first-ballot Hall of Famer, Ray Allen, has decided to join forces with Boston's equivalent of the Legion of Doom, but bear in mind the Celtics have filled that void nicely with Jason Terry, a man with his own championship credentials. Is Jason Terry really comparable to Ray Allen? Arguably, at this point this point in their careers I think a case can be made. Even if you find that hard to believe, there's no denying that Terry in tandem with a healthy Avery Bradley and even Courtney Lee certainly softens the blow of losing a member of Boston's once mighty Big Three.
Paul Pierce still has some game left in him for sure. He's never been an incredibly explosive player and provided he can keep his aches and pains under control, I see no reason why he can't continue to play at a high level for the next season or two.
Kevin Garnett is a much bigger question mark. It's almost a shame to see a once so dynamic player become a glorified pick and pop player, but his basketball IQ is almost as big as his mouth and he should still be able to be a defensive factor in spurts. The good news for the C's is that finally they have some size that will take some pressure off of KG at both ends of the floor.
Fab and Sully are raw talents, but they quite simply have the size to plug up the paint that the Celtics haven't had since the hobbled and aged bodies of the not-quite-brothers O'Neal (who played about 10 games a piece). Jeff Green's underrated return and another year in green for LSU's Brandon Bass should give the Celtic frontcourt a nice boost.
The bottom line is that the Celtics will have a formidable bench for the first time since their title run in 2008, Doc Rivers' coaching speaks for itself, and defying all rational thought, Rajon Rondo seems to improve every season. We're referring to a Boston team that was as banged up of a playoff team I've ever seen and pushed the eventual champion Heat to 7 games. There's something to be said for Boston's success and the absence of Chris Bosh not being coincidental, but nonetheless the Celtics are an old automobile looking as shiny and new as they have in years. Rest assured, they're going to be deep in the hunt for at least one more title with Pierce and Garnett at the helm.
Toronto Raptors: Dwayne Casey's ability to somewhat implement Dallas' championship defense in a place where defense was once considered a lost cause is proof enough that the Raptors are headed in the right direction. However, even though the direction is a solid one, it's still going to be slow going and an uphill battle in Canada to see this team have any real success.
Kyle Lowry's signing is a bit overlooked coming off his breakout season with Houston despite butting heads with Kevin McHale and/or management. Every other acquisition is likely a little overrated. Better to have Jonas Valanciunas cutting his teeth in NBA arenas rather than overseas, but you likely won't see a true return on that for another couple years. Landry Fields is a player who busts his butt and can contribute some intangibles, but he had a habit of disappearing or forcing plays in New York. Odds are the Raptors overpaid for him when they tried to make New York decide between keeping him and pursuing Nash, but Landry has the upside to make me eat crow and I wouldn't mind if it means his continued success.
The lone bright spot in Toronto has been the subtle blossoming of DeMar DeRozan, who has carved out a solid little niche for himself there. Hopefully the injection of new talent doesn't hinder that growth. Andrea Bargnani's health is, of course, always of great concern and question as well. At the very least, we should begin to see flashes of what the big picture looks like in Toronto and those growing pains have the potential to be painful, but fun to watch.
New York Knicks: The Knicks have raided the near-retirement ward of the NBA and carved out a decent bench for themselves. Camby, Thomas and Kidd and reduced roles should flourish and round out the bench nicely; giving the Knicks a paint presence they haven't had since, well… Marcus Camby and Kurt Thomas. Obviously, they have should-be Defensive Player of the Year, Tyson Chandler, but I couldn't resist the nod to those centers' younger days in blue and orange.
For the first time in some time, the Knicks have not overpaid for players, wisely letting Lin and Fields walk and replacing them with Felton (we'll see) and Ronnie Brewer (brilliant signing for the price). All is not blue skies in New York, however. Felton is coming off a woeful season in Portland, perhaps proving once and for all that Mike D'Antoni's run and gun system will embellish any point guard's skill set. Regardless, you couldn't justify giving Lin that kind of money and/or expect Jason Kidd to log heavy minutes. Felton appears to be saying the right things and is poised for a "comeback" of sorts. Time will tell, but the Knicks made the move they had to make regardless.
The jury is still out as to whether Carmelo can mold his game to blend with… anybody, but his performance in the Olympics was almost poetic and he's shown that he can play and win with pieces around him. I feel pretty safe in saying that Amare is somewhat of a bust with no knees or basketball skills to speak of as a result, but bear in mind that if the Knicks wound up with no prize free agent two summers ago, Donnie Walsh would have made Isiah Thomas and Eddy Curry look beloved in the Big Apple. Stoudemire's days of bulldozing through and over people appear to be more or less behind him and while his jumper has improved, it doesn't justify his paycheck. He did train with Hakeem this offseason, and the last person who did that won a title. The Knicks almost certainly won't, but maybe Amare has learned some tricks that will prove to make himself and his team better this season. The bottom line is that the Knicks have both improved and been wise with money this offseason. Their improvement likely won't translate to more than yet another first round bounce, but I respect the Knicks for making the best of the bed they've made. My one true gripe is why the heck was J.R. Smith re-signed and why did he bring his brother with him?
Brooklyn Nets: Simply put, a team lined up to be the most improved team in the league. The Joe Johnson acquisition is a bit overrated, especially with a budding MarShon Brooks still on the roster, but the fact that they didn't have to give up much to get him may make his signing the biggest steal of the season. Deron Williams is more than appeased and has some real tools to work with this season, including the re-signed Gerald Wallace and bounding machine Kris Humphries. Joe Johnson resurrects an almost lost mid-range game in the NBA, Brook Lopez, once arguably the second best center in the Eastern Conference, will be healthy and has promised to be more active on the glass, and again, the aforementioned Brooks has no ceiling in sight. Bogans will be a great perimeter defender for the squad. C.J. Watson was more than an adequate backup for the injury riddled Derrick Rose in Chicago last season and should do more of the same filling the sneakers of Williams. This is indeed a whole new squad and the impetus is on Avery Johnson now to be up to the task for what will now be championship aspirations. I don't know about you, but I think this squad looks a lot better to me than a gutted roster resulting in Williams, Dwight Howard, and a bunch of miscellaneous players. The power may have shifted in New York before a game has even been played in the lavish Barclay Center.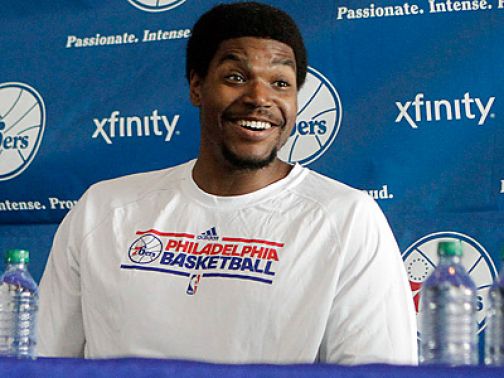 Philadelphia 76ers: The Kwame Brown Era was over before it even had the chance to begin, as there's a new big man in town. Andrew Bynum's arrival comes at the expense of the departure of often criticized swingman, Andre Iguodala. I gather that the mood in Philly is mostly that of great merriment, and I share their levity. It's refreshing to have a true new day in Sixer basketball and have Iggy's huge ego replaced with huge expectations. Iggy's departure is somewhat bittersweet, considering he was coming off two of his best seasons under Doug Collins, but largely the team was going to be stuck in limbo until a change of this magnitude occurred.
The Sixers inherit a seven footer who has nothing but upside and seems to be thrilled to be embraced by the "brotherly love". Bynum has had his own maturity issues, most notably and recently with Laker coach, Mike Brown, but the way I see it, a change in scenery can be the best medicine for an unhappy player and if Doug Collins can turn Iggy from a shot taker into a playmaker, I don't doubt he can continue his horse whispering ways with the young Bynum.
Collins really does seem to have an intangible ability to get through to young players and I couldn't be more excited to see where he can lead this team this coming season. Holiday continues to blossom, seemingly by the game, and I think Turner's solid performance in last year's playoffs is telling of a breakout year to come. With Iggy gone and a  more defined role with the team, he'll likely finally have the room to grow into a player worthy of being the second pick of the draft.
The Sixers seem to molded in the image of the former Finals contending Magic squad, with shooters (Young, Richardson, Holiday) surrounding the dominant center piece. The Sixers have more talent on paper than that team ever did, with the versatile Spencer Hawes and Thad Young rounding out the rotation. Lavoy Allen was a stud as far as rookies go last season and he should continue to grow under Collins' wing. Quite simply this team has a whole new look that should translate to much improvement and debatable contention in the coming years, should Andrew Bynum's health hold up and, of course, he re-signs. You have every reason to be excited and the conference and league should be on the lookout for the young and growing Sixers.