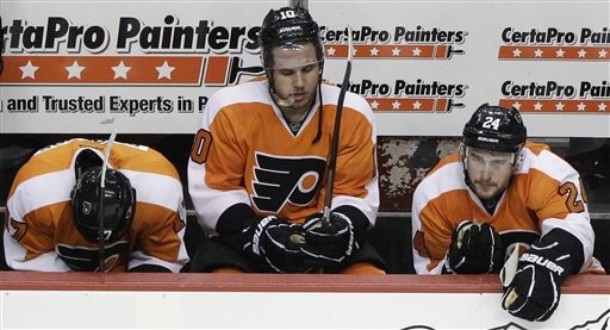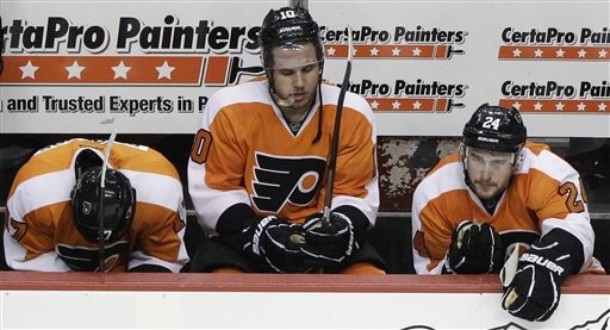 Philadelphia Flyer forward Brayden Schenn reached a milestone today that, considering all of his accomplishments to date, might be surprising to some- he finally turned 21 years of age.
As long as he stays far from Philadelphia tonight, he probably won't show up on Crossing Broad giving the public his best "Patrick Kane" impression.
Another uncertainty at this point of the summer is just where the young forward will end up within the roster by the time the 2012-13 NHL season kicks off (if it ever does).
The second line is currently expected to be centered by Danny Briere and flanked by Wayne Simmonds on the right wing. Both forwards spent an appreciable amount of time last season with Schenn (27% and 53% of his time on ice, respectively).
The same can be said, however, for Matt Read. Through 79 games played, the 25 year-old rookie spent approximately 41% of his TOI with Simmonds and 32% of his TOI with Briere.
Schenn had a rough start to the 2011-12 NHL season, breaking his foot in late October and then suffering a mild concussion in early December. Once he tallied his first NHL goal during the Winter Classic, though, he scored in bunches through the second half of the season.
Schenn finished the regular season with 12 goals and 18 points through 54 games played. He added to that production with 3 goals and 9 points through 11 games in the playoffs.
Based on scouting reports and his record in the Canadian junior hockey leagues, starting him on the second line would provide an opportunity for him to push himself to "the next level."
In spite of Schenn's history, Read may still have the inside track.
It's probably unlikely that Read will match or exceed the 24 goals and 47 points he put up last season, but the bar has been set high and the organization knows he has the tools to score at this level.
Read also performed slightly better than Schenn defensively (though not by much). It wasn't much of a surprise that Briere's play was strikingly one-dimensional during the 2012 Stanley Cup playoffs, and Simmonds wasn't much better. Whoever plays on the left wing is going to have a lot of pressure to balance this aspect of the second line.
Read began 50.5% of his shifts in the offensive zone and ended 49.5% of his shifts in the offensive zone.
By comparison, Schenn started 54.8% and ended 47.1% of his shifts in the offensive zone. From this, it can be inferred that Read was given marginally tougher assignments and moved the play forward a little better than Schenn.
Both players faced similar competition with similar "CORSI" results.
I received a lot of flack (a nice way of putting it) early in the offseason when I suggested that the organization could build a stacked fourth line with Read, assuming that James van Riemsdyk was still on the team and taking up the second line left wing position.
Read may very well take his place, if Schenn doesn't outperform him for it in training camp (or whatever constitutes "camp" when the season eventually starts).
Regardless of whoever ends up winning the position and the associated ice time, the organization will be looking at both forwards extensively over the next two seasons.  The current contracts for both forwards expire after the 2013-14 NHL season, along with Claude Giroux's and Sean Couturier's.
For the latest Flyers news and updates, you can follow me on twitter (@JoshJanet).
All statistics were pulled from Behind the Net and HockeyDB.com.