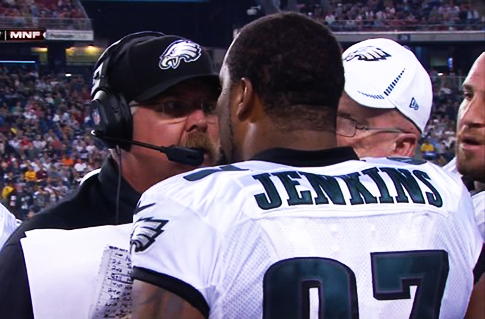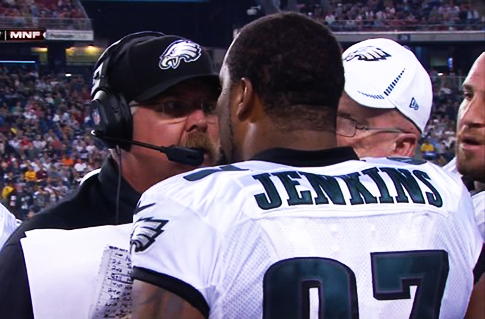 Playing in a NFL football game is kind of like two parents waking up one night and realizing the house is on fire with their children in it.  They've got to get their three kids and two dogs out of the house safely and they've got very little time to do it.
Their emotions would be pushed to the limit.  They would be trying to stay cool and calm, but inside they would be exploding.  The husband and wife would be trying to do everything they could do to get everyone out of the house in an organized manner, but there might be some disagreements about how to do it.
They might scream at each other a few times because they would be so eager to get the job done.  They might say some things to each other that they really didn't mean, but it was done in the midst of the situation.
That's kind of what it's like on an NFL sideline.  I've heard it aptly called organized chaos.  The emotions are pushed to the limit.  Everyone is hyped all the way up.  I played for 11 years and saw players and coaches get into heated discussions hundreds of times.  I"ve seen players attack coaches and coaches attack players.
It's not every regarded as a big deal if it's not seen publicly.  You must have thick skin to play the game.
That's what was caught on camera the other night when Andy Reid and Cullen Jenkins were caught screaming at each other at the top of their lungs.  Penalties were killing the Birds and Reid had seen enough of it, so he was letting his defense know.
Jenkins jumped into because he believed he and his teammates had gotten the message.  Now a few days after the incident and few conversations between the defensive tackle and head coach, Reid and Jenkins are on the same page.
"He was just trying to control things on the side. Just trying to make sure everything was going the right way. It was getting a little emotional earlier and he was just trying to control things," Jenkins said.
Reid wants his defensive line to cut down on the penalties, but not let their passion for rushing the quarterback die down.
"I like a little fire. That's OK, that's alright," said Reid. "It means something to him. He's one of the leaders of that group. I get it. I understand."