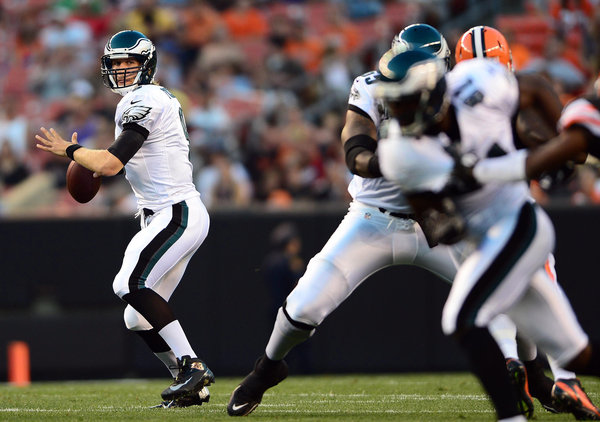 Earlier today Eagles head coach Andy Reid gave the run down on who would play and who wouldn't play.  He started out by telling us that the starters wouldn't play in the game on Thursday night.
Injuries will sideline Nate Allen, Jason Babin, Riley Cooper, and Casey Matthews,
Quarterback Nick Foles will start the game at quarterback and play the first quarter.  Veteran quarterback Trent Edwards will take over in the second quarter and play the rest of the game.
Demetress Bell will start at left tackle and continue his goal of reclaiming his starting position.
Fullback Stanley Havili won't play on Thursday.  Reid repeated what he has said previously during the camp, Havili is the team's starting fullback.
Eagles defensive end Darryl Tapp won't play on Thursday.  You could take that as a vote of confidence in Tapp.
Defensive tackle Fletcher Cox and Derek Landri won't play.  Landri has been starting all preseason at the defensive tackle spot with Cullen Jenkins.  It wasn't any surprise that these two defensive tackles
Antonio Dixon and Cedric Thornton will play on Thursday night.  They'll be rotating in and out of the lineup.  They're still competing to make this football team.
Akeem Jordan who just was promoted to the starting Will linebacker position will play a few series which is understandable.  Jordan needs some reps with the season right around the corner.
Starting nickel back Joselio Hanson won't play on Thursday.  Hanson will be the starting nickel back in the first game of the season against the Browns.  Brandon Boykin will back him up and should Hanson struggle, the rookie will likely get the chance to step in there.
Veteran safety Oshiomogho Atogwe will play against the Jets.  He needs to play well if he wants to make the football team.  Atogwe has missed quite a bit of practice time and he's also played very little in the preseason.