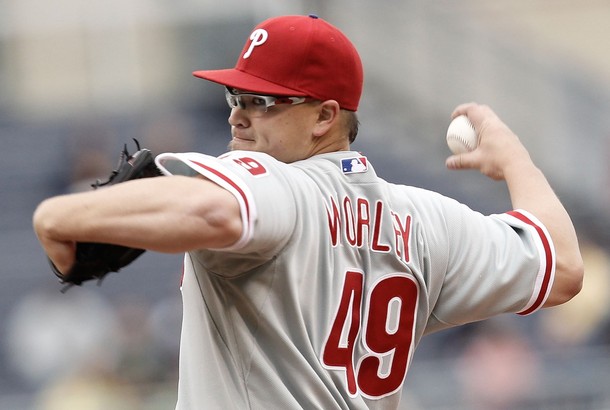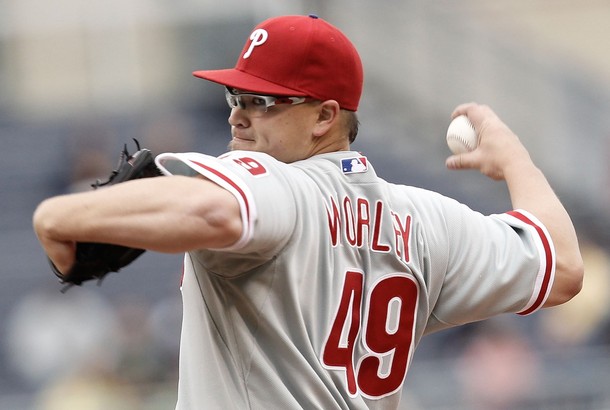 On Tuesday night, Phillies' pitcher Vance Worley struggled through another start.
Worley lasted just 4.1 innings, surrendering four earned runs on nine hits to the New York Mets. It was third time he failed to go at least five innings in his last five starts, and he's also given up a combined 18 runs in his last 24 innings.
Worley's second year in the major leagues hasn't gone nearly as smoothly as his rookie campaign. One year after going 11-3 with a 3.01 ERA, the righthander has struggled through the 2012 season with an underwhelming 6-9 record and a 4.20 ERA.
For Worley, the 2012 season has been filled with starts like the one he turned in on Tuesday. He hasn't been able to go deep into games all season, and he's been surrendering a ton of hits, putting a lot of runners on base. In 2011, Phillie fans affectionately nicknamed him "The Vanimal" after witnessing his major league success, but now much of the fanfare and hype surrounding him has faded, and he's currently the least dependable pitcher in the rotation, even falling behind Kyle Kendrick (who has pitched very well as of late).
However, even though this season has been a rough ride, there's no reason to sour on Worley's potential impact on the team in 2013.
Remember that since returning from the disabled list in early June, Worley has been pitching with a painful bone chip in his elbow. He's been gutting out the injury, but clearly its taken a toll on his effectiveness. Before going on the DL, he was 2-1 with a 1.97 ERA after five starts in April, two of which he lasted at least seven innings.
Once he rejoined the rotation, Worley managed to pitch well in June (going 1-2 with a 2.70 ERA), but as the season has gone on he's become less effective. Since July began, the 24-year old has only pitched into the seventh inning twice, and has given up seven or more hits in eight of his 10 starts.
While he may not use the injury as an excuse, it's easy to imagine the pain from a lingering issue like that building up over time and taking away from a pitcher's effectiveness. Right now, Worley appears to be at the end of his rope in terms of tolerance, and he's currently laboring through his final starts of the season.
It may be the right time for the Phillies to put Worley on the shelf for the rest of the year, and start getting him healthy for 2013. He's no good to the team in his current state, and they could fill his spot in the rotation with a guy like Tyler Cloyd (who has questionable skills, but deserves a couple of big-league starts after his great season at Triple-A).
Worley is going to be counted on to be a key member of the 2013 rotation. Cliff Lee isn't a lock to return to the team at this point, Roy Halladay can't be counted on to consistently regain his top form, and Kyle Kendrick is nothing more than a fifth starter. The Phillies need Worley to be a stable presence as a third or fourth starter next year. The best thing they could do to make sure that happens is to shut him down and start getting him healthy and focused for the role he'll have to play to get this team back into playoff contention.