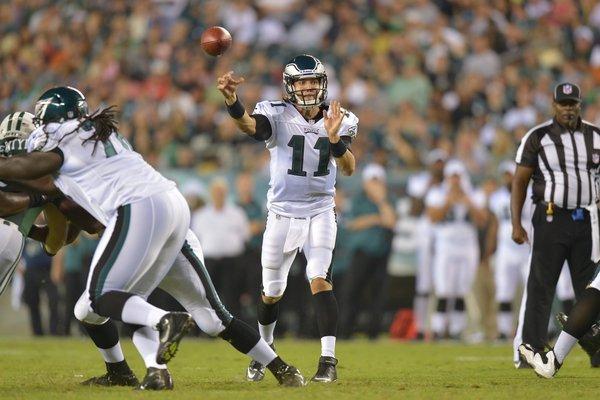 After the game last night Andy Reid told us how he felt about making the decision about which quarterbacks would stay and which one would go.
"I want it to be hard," Reid said regarding his quarterback personnel decisions. "I thought he played well and did a nice job. Howie and I will go back and look at it tomorrow and see what we think."
Well he got what he wanted.  I don't think there's any question that Trent Edwards earned a spot on somebody's NFL team even if it's not on the Eagles.  If I were making the call, he would be a member of this team and Mike Kafka would not.  Kafka has never looked as comfortable as Nick Foles or Edwards looks in the pocket and running this offense.
The only advantage Kafka has over Edwards is that fourth round pick which was used on him.
Edwards completed 22 of 32 passes for 197 yards and two touchdowns in three quarters.   He has started 33 games in his career.  He is a competent NFL quarterback.  I can't say the same about Kafka, so there's no question about what I would do.
Jaiquawn Jarrett and Phillip Thomas should be the backup safeties on the roster.  O.J. Atogwe who has been hurt throughout the training camp and preseason.  He didn't do anything when he was healthy, so I would say good-bye to Atogwe.  Jarrett has played better and I like what I see from Thomas in both his tackling and pass coverage.
I thought Mardy Gilyard earned himself a place on the ballclub last night.  He's been showing glimpses of his talent, but now it's really starting to come together.  He got behind the Jets secondary a couple of times last night and came back on an underthrown Edwards pass to catch a touchdown.
Last night he caught 5 passes for 71 yards and a touchdown.  I like the way he's learn to come back to the football on both deep and short passes.  He's got some size to him 6'1″, 187 and he's a tremendous leaper, so he can go up and get the ball in a crowd.  I've seen him really, aggressively go up and get the ball in traffic during practice.  Hall is more consistent right now, but Gilyard has a much bigger upside because of superior speed and size.
It will be a shame if Chris Polk doesn't make the team because he's played well enough to stay.  Last night he showed his ability to make tacklers miss and to punish them.  He's a complete back, who can run inside or outside, catch the ball out of the backfield and
To Be Continued