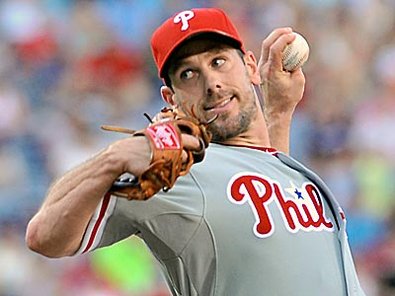 The Phillies won their third straight game on Saturday afternoon, taking down the Braves 5-1 in Atlanta. The victory improves the Phillies to 64-69.
The Phillies were anchored today by another stellar start from Cliff Lee. Lee threw seven scoreless innings, and allowed just five hits while striking out five. His ERA has now dipped to 3.52.
In addition to his superb pitching, Lee also drew a walk with the bases loaded.
The offense did a nice job chipping away at the Atlanta pitching staff, scoring runs in four different innings.
John Mayberry drove in the first run with a two-out single in the first inning.
Jimmy Rollins got the second run on the board with a solo home run to lead off the third.
Chase Utley hit a two-out double in the fifth inning to score Juan Pierre.
The team scored two runs in the sixth inning, one coming Lee's walk with the bases loaded, and another coming from an RBI groundout off of the bat of Ty Wigginton.
I feel a little bad for B.J. Rosenberg. He's in over his head right now, and shouldn't be facing big-league hitters. He was the first pitcher out of the bullpen to start the eighth inning, and gave up a solo shot to the first batter he faced. After recording one out, he was lifted in favor of Antonio Bastardo.
Bastardo's looked good in his appearance, picking up two strikeouts to finish the eighth.
Bastardo's success in the eighth prompted Charlie Manuel to leave him out there to pitch the ninth inning as well. Manue;'s decision turned out to be a good one, as Bastardo was able to pick up two quick outs to start the inning. He then gave up a hit to Dan Uggla, but was able to close out the game. He's now had five straight scoreless appearances.