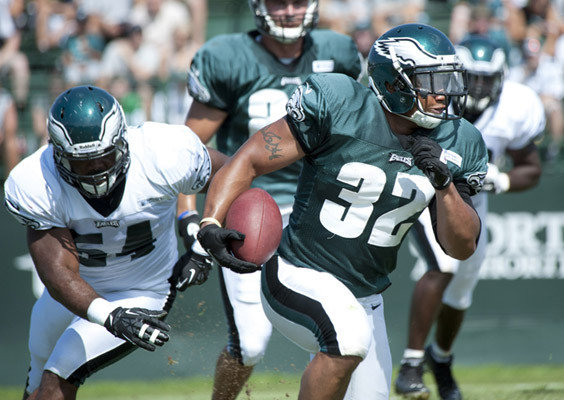 Eagles' GM Howie Roseman considers the practice squad as part of his available roster in case somebody gets injured during the season.  The GM and the Birds seem to be taking some serious risks with their roster by going to battle heavy with six defensive ends and four running backs.
The Birds are very strong at the running back position with All-Pro LeSean McCoy the starter, but they have three ball carriers behind him and chances are that one of them is going to inactive each week.
McCoy is backed up by Dion Lewis, who had an outstanding training camp.   He's like a smaller version of McCoy, who can make people miss while running effectively inside and out.
Backing up Lewis is rookie ball carrier Bryce Brown, who was electrifying in practice and during the preseason games.  Behind him is another rookie running back, Chris Polk, who is a power runner with quick feet and the ability to find a hole wherever it is.
I know Polk looks like a quality young back, but the Birds are short at the wide receiver position.  They only have five wide receivers on the roster. The starters are DeSean Jackson and Jeremy Maclin.  Jason Avant is the slot receiver.  Riley Cooper, who is coming back off of collarbone surgery and not a definite this weekend, is the fifth receiver on the depth chart behind rookie Damaris Johnson.
Avant doesn't have the speed to play outside, so they're putting a great deal of pressure on Johnson the rookie.   He's got a lot of talent, but many times wide receivers take some time to come around in the league. On the practice squad they have their sixth round pick Marvin McNutt and second-year wide out B.J. Cunningham.  Hopefully Cunningham could help them if called upon, but McNutt doesn't seem to be ready just yet.
On the defensive side of the ball, the Eagles held onto veteran defensive end Darryl Tapp even though they've got five other defensive ends on the roster.  The starters are Pro Bowlers Trent Cole and Jason Babin.  Phillip Hunt and Brandon Graham have both been brilliant in the preseason.  Rookie Vinny Curry has been productive as well, yet they held on to Hunt.
That's a bit heavy, especially when you look at their safety position.  There's no way the coaches are getting any sleep at night knowing that they're a couple of plays away from going with Jaiquawn Jarrett and David Sims.
I would have made one of these cornerbacks a safety, Brandon Boykin or Brandon Hughes.  I talked to Boykin yesterday and I like his feel for the game and willingness to hit people.  He's playing safety when he's playing the slot position any way.
There are plenty of reasons that the last position of the defense is called safety.  You're not safe from the other team scoring on any play, if your safeties don't do their jobs.  Also, when the safeties don't do their jobs, there's no place that is safe for a defensive coordinator.  Juan Castillo has to hope that his safeties play well and don't get hurt.