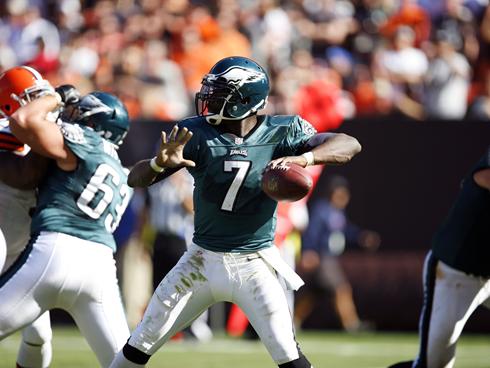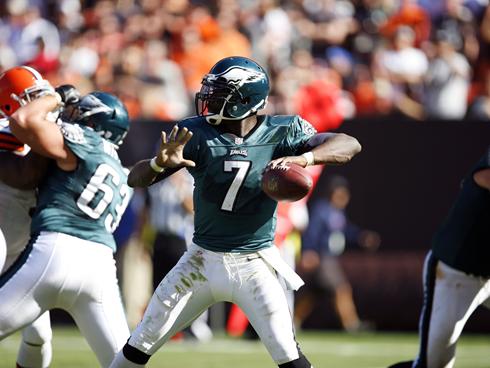 NFC East
Stock Rising: Dallas Cowboys, Washington Redskins
The Cowboys showed great signs in Week 1 with great offensive performances from Tony Romo and DeMarco Murray, but their rebuilt defense also impressed while limiting the damage that Eli Manning was able to do.
You can't say enough about the statement the Redskins made with their stunning upset on the road over the powerful New Orleans Saints. The Redskins could have easily won a couple more games last year if they had received any kind of competent quarterback play, and it looks they have finally found their answer at the position. It's too early to tell just how much to expect from them, but certainly they aren't going to be the doormat they were in 2011.
Stock Falling: Philadelphia Eagles
As I've stated plenty of times, I'm not particularly optimistic about the Eagles' chances to fulfill lofty expectations set for them by fans and the media, and their performance against the Cleveland Browns certainly didn't do much to change my thinking. Their odds of winning 10 games decreased because of their own poor performance, and because of the surprising effort of Robert Griffin III and the Redskins. Many people (myself included) had the Eagles sweeping the Redskins before the season, but now I don't know that you can count on two wins against Washington anymore, as it certainly looks like they'll be a much better team than previously anticipated.
NFC North
Stock Rising: Chicago Bears, Minnesota Vikings
The Bears added a lot of weapons to their offense, and they had a strong first showing. Receivers Brandon Marshall and Alshon Jeffrey made immediate impacts, and Matt Forte and Michael Bush look to be a formidable running back tandem. As long as Jay Cutler stays away from turnovers, this is going to be a much improved football team.
The Vikings were also impressive in Week 1, with quarterback Christian Ponder performing well in his first start of the season. The big story for this team was how well Adrian Peterson was able to perform in his first game back from injury, but if Ponder can continue to grow and build off of what he's done so far, this team might not be a pushover after all.
Stock Falling: Green Bay Packers
I have to say, as great as the Green Bay passing attack is, they don't have the running game or defense to compliment it. Ever since the Chiefs defeated them late in the regular season, the Packers haven't looked like an invincible force. Defensive coordinators know this team doesn't have a good ground attack, and they've had an entire off-season to scheme against Rodgers. While this is still without a doubt a great team, I'm wondering whether or not they are still a lock to win this division with how much Chicago has improved. On paper, the Bears are a more well-rounded, complete team.
NFC South
Stock Rising: Atlanta Falcons
Matt Ryan was dazzling against the Chiefs, and if this game was any indication, 2012 could be the year that he gains elite status.
Stock Falling: Carolina Panthers
Their playoff hopes took a hit by coming out flat and losing a game to an inferior opponent. Cam Newton needs a big performance next week to avoid questions about a possible sophomore slump.
NFC West
Stock Rising: San Francisco 49ers, St. Louis Rams
No more doubting the 49ers. As hard as it is to believe in Alex Smith, he's become a different player under Jim Harbaugh. Their defense is clearly the class of the NFC, and perhaps the entire NFL after making a statement by shutting down the Packers in Green Bay.
It looks like Jeff Fisher may be rubbing off on the Rams quicker than anticipated. St. Louis played a strong defensive game against the explosive Lions, with new cornerbacks Cortland Finnegan and Janoris Jenkins both making plays to limit the damage Matt Stafford could do.
Stock Falling: Seattle Seahawks
Russell Wilson didn't fare well against the Cardinals. Even though the decision to him may benefit the team in the long term, his growing pains could cost them a shot at whatever Wild Card hopes they had before the season.
AFC East
Stock Rising: New York Jets
You have to give Mark Sanchez credit. There's more pressure on him right now than there has been before, but he passed his first test with flying colors, throwing for three touchdowns against the Bills.
Stock Falling: Buffalo Bills
Their opener couldn't have gone worse. Ryan Fitzpatrick continued to struggle protecting the football, new defensive additions Mario Williams and Mark Anderson were quiet in their first games, and the team lost top running back Fred Jackson for at least a month with an LCL sprain.
AFC North
Stock Rising: Baltimore Ravens
The Ravens simply dominated the division rival Bengals in all facets of the game on Monday night. Joe Flacco and Ray Rice looked nearly unstoppable.
Stock Falling: Pittsburgh Steelers
Pittsburgh's defense didn't have an answer for Peyton Manning, who played his first game in nearly two years. They don't look capable of stopping an improving Ravens offense.
AFC South
Stock Rising: Jacksonville Jaguars
Although it was a losing effort, Blaine Gabbert looked pretty good in his first game of the year. As long as he develops, the Jags will be a tough out.
Stock Falling: None
No teams in this division performed below expectations this week. The Texans took care of business against the Dolphins, the Titans were expected to be overmatched by the Patriots, and the Colts weren't going to do much against the Bears.
AFC West
Stock Rising: Denver Broncos
We knew the presence of Manning would improve this team, but they had a tremendous first showing against the Steelers.
Stock Falling: Oakland Raiders
This group didn't look sharp at all against the Chargers. They've been on a downward slide ever since the Carson Palmer trade.