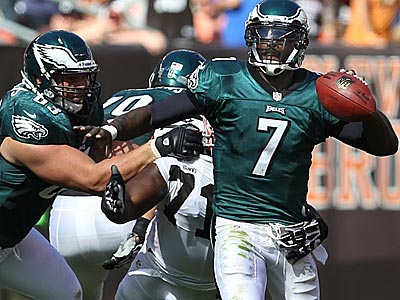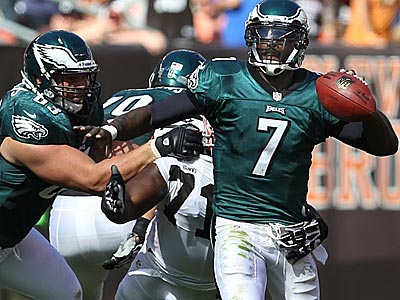 Reid Holds The Biggest Key
Andy Reid always says that the team's successes and failures start with him. The head coach always stresses that it's on him to put his players in the best possible position to succeed. For the Eagles to have a chance against Baltimore, Reid will need to be at his best while managing the team on the sidelines.
Last week Reid called a terrible game. While I put a ton of blame on Michael Vick for what I believe to be an inexcusably poor performance, there's no denying that his head coach also deserves just as much responsibility, if not more, for the team nearly allowing a winnable game to slip away.
Reid needs to help his quarterback out by establishing a running game early on to help set up the vertical attack that he loves so much. The coach only made Vick's struggles worse last week by calling pass after pass after pass. The offense became predictable, and the Browns were able to simply drop back into coverage on every play and wait for the quarterback to make mistakes.
If Reid calls a good game, but his players still don't get the job done it's one thing. But if Reid continues to forget that he has one of the best running backs in football, and allows to offense to become predictable to the point where the Baltimore defense knows exactly what to expect, it's going to be an ugly home opener for the Birds.
Michael Vick Has To Be Better Than Last Week…Right?
They say once you hit rock bottom, there's nowhere to go but up.
After playing what might be the worst game of his career a week ago, it's hard to imagine Vick turning in another performance that bad. However, I don't think that necessarily means we can expect a good effort. The Ravens come in with such an accomplished defense; a defense that does a lot of things well and is capable of producing game-changing plays.
On top of the large questions regarding Vick's game, there are no guarantees that his head coach will put him in a good position, and his offensive line is coming off of a very shaky performance against the Browns.
Against a unit this good, I can't see Vick playing a clean game. There are just too many major questions about Vick and those around him for me to expect him to play well. He won't throw four interceptions again, but I see him committing at least two turnovers.
How The Eagles Can Beat The Ravens
As mentioned above, for the Eagles to come away with a win, it has to start with the gameday coaching of Andy Reid.
The Eagles are a team that is in love with the big play; they love to stretch the field with their speedy receivers and rely on big strikes to set up their offense for success. In this game, it's very important that they forget about that philosophy, especially with top receivers DeSean Jackson and Jeremy Maclin dealing with injuries.
The Ravens aren't a team that you can beat with the big-play mentality. You can't rely on finesse, you must overpower them by playing a physical, grinding game. This means that LeSean McCoy will need to be the focal point of the offense. The Eagles must have a run-first mentality, and attack the Baltimore run defense regularly.
The Eagles need to involve their backup running backs in this gameplan as well. Reid chose to keep five running backs on the roster, and he needs to justify that decision by leaning on his younger backs. If Dion Lewis is healthy, he's got to get between 5-8 touches. Bryce Brown also should receive a couple of looks.
The passing game needs to be simplified and methodical. The best thing the Eagles can do in this game is not ask Vick to do too much. When they do put the ball in their quarterback's hands, they need to set him up for success by calling things like screen plays and utilizing their two quality tight ends Brent Celek and Clay Harbor.
If the Eagles' offense can succeed in producing a number of long, efficient scoring drives, they'll wear down Baltimore's veteran stars and open the door for their deep threats as the game goes on.
Defensively, Juan Castillo is going to have a much greater challenge on his plate this week. Joe Flacco is improving with every pass attempt, and is playing with great confidence as he runs the up-tempo no-huddle Baltimore offense.
The first thing Castillo must do is contain Ray Rice. One of the top running backs in football, Rice is both explosive and efficient. The best chance the Eagles have for success is to focus on taking Rice away, and forcing Flacco and the receivers to beat them.
The Eagles defense do have some favorable matchups with the Baltimore receivers. Nnamdi Asomugha should be able to handle an aging Anquan Boldin, and Dominique Rodgers-Cromartie has the speed to match up with deep threat Torrey Smith. However, tight end Dennis Pitta and slot receiver Jacoby Jones will be difficult assignments for rookies Mychal Kendricks and Brandon Boykin.
Another matchup that favors the Eagles is the fact that Baltimore has a suspect offensive line. This is a group that lost a Pro Bowl guard Ben Grubbs to free agency, and Jason Babin will be matched up with a rookie offensive tackle in Kelechi Osemele.
If this defense plays another good game, it would make a lot of believers in Juan Castillo.
Why The Ravens Will Win.
As promising as the idea of a run-first offensive approach sounds, it may only be possible in an alternate dimension. This is Andy Reid we're talking about. His philosophy is to keep firing and stick to the gameplan, no matter what happens. He'll live and die by his sword, and a sword that isn't particularly sharp and sturdy (Vick) could easily break once engaged with the proud, battle-tested warriors of Baltimore.
Reid's offenses have also had trouble in the past succeeding against a 3-4 attack. Even though the Ravens are without their best pass rusher, Terrell Suggs, they'll have little trouble generating pressure on Vick against a questionable offensive line. They're also likely to copy Cleveland's approach, and send blitz after blitz at a quarterback who struggles heavily to read and recognize them.
The Baltimore offense will create problems for Juan Castillo because of their fast-paced style of play. The Ravens will force the second-year defensive coordinator to constantly think on the fly and anticipate more quickly than normal what Flacco's next move will be. This is something that the former offensive line coach hasn't shown that he can do consistently yet.
The Ravens are the complete opposite of the Browns in the sense that Baltimore's offense is so diverse with a great number of talented players and stars, while Cleveland's attack was as limited and basic as they come. It would be extremely impressive if Castillo's group is able to enjoy a successful outing against this group, but I expect them to struggle after watching how easily Baltimore disposed of a pretty decent Cincinnati defense.
Final Thoughts
I don't think the Eagles are hopeless in this game, but I think too many things will have to go right for them to win.
From the head coach's playcalling, the quarterback's stability, to the defensive coordinator's ability to adjust to the speed of the Ravens' game, those are three major concerns that will all need to go right in order for the Eagles to come out on top.
It's a little surprising to me, but many fans and media members in Philadelphia have been picking the Eagles to win, but I just don't see it. Most of their picks seem to be on gut feelings more than anything else, with their most convincing argument being that they're clinging to the hope that Baltimore will come out a little flat on a short week, which in my eyes isn't nearly enough to give the Eagles an edge.
The Eagles are going find out what a legitimate Super Bowl contender looks like. Philadelphia is a team with talent but they also have questions and consistency issues while the Ravens are a team that does a lot of things very efficiently, and don't have nearly as many pressing concerns as their opponent.
I expect this to be a fairly close game, but Baltimore comes out on top.
Follow Denny Basens on Twitter.