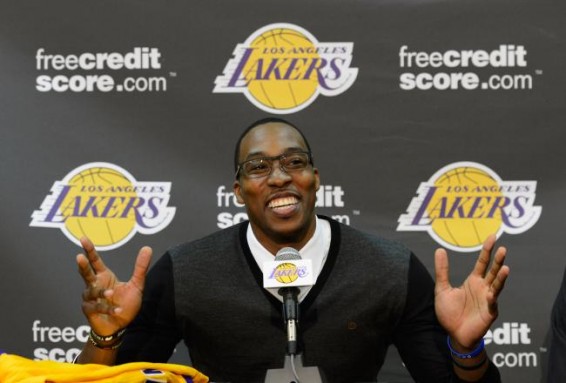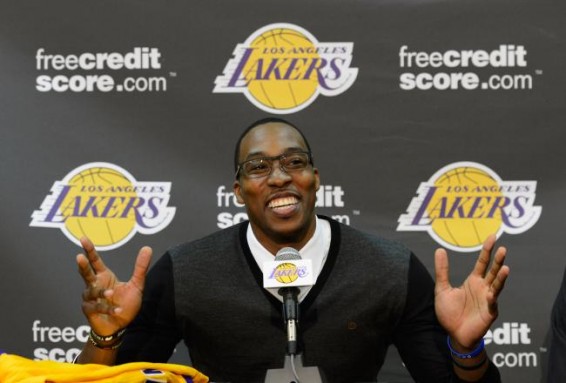 Los Angeles Lakers: To get the obvious out of the way,the Lakers have improved a great deal this offseason and will certainly be legitimate contenders for the Larry O'Brien trophy, as they continue to prove that the draft is for squares. The one thing I will say that may raise some eyebrows is that I don't think Dwight Howard's acquisition has all that much to do with it. Dwight's an absolute talent on both ends of the floor by virtue of his size and athleticism alone. Couple those attributes with decent hook shot and work-in-progress Duncan-esque bank shot he's trying to cultivate, and you have a man who's going to improve any team for which he suits up, to put it mildly. I only mean to point out that Lakers have traded, much to the euphoria of Sixer fans, the only center in the NBA whose name can justifiably be said in the same sentence as Dwight Howard in Andrew Bynum. (Unless that sentence is: Unlike Sammy Dalembert, Dwight Howard prefers to dwell in the paint.) Simply put, having a big man in the middle was never a problem in Los Angeles and I feel the Lakers' imminent success has a lot more to do with other new Lakers joining Dwight and the perennial Kobe in purple and gold.
For the record, I do think Howard is a better fit for the Lakers than Bynum was, which is saying something. Dwight runs the floor a bit better and will likely mesh more with the Princeton offense. Dwight's touches, should he be content with them, should come from boards and he should see plenty touches on pick and roll plays from a man who seems to define it for a generation; Steve Nash. Bynum likely is the better scorer at the position, but a team as suddenly deep as the Lake-show should fare just fine with Dwight down low. It's fair to at least wonder if Dwight will be reticently resistant to being the third or fourth option offensively (Kobe, Pau, Nash, himself?), but winning can be the best panacea for those kinds of issues, and the Lakers will be doing a lot of that.
Steve Nash's pedigree speaks for itself, quite frankly. A genuine floor general who still some gas in the tank is now at the helm of a veritable All-Star team. After years of clawing an otherwise pretty pedestrian team into contention with some help from Amare Stoudemire, the former Suns member will have more weapons than he'll know what to do with in Los Angeles. Visions of his pick and roll with Dwight, pick and pop with Pau, and just plain playing with Kobe is hard not to salivate over. The talent around Nash alone will lighten his load and with his court vision and scoring ability in his own right, he, in turn, takes pressure off his teammates (Pau should flourish with someone getting him his shots in his spots. In addition, the Lakers still have whom I consider one of the better back up points in the league in Steve Blake.
Antawn Jamison received a measure of vindication after putting in his time as a lone vet on a rough Cavs squad. Dan Gilbert likely had high hopes of Jamison finally being the Robin that Batman (LeBron James) never had. Obviously that never came to pass. Jamison showed class in playing hard night after night, and will now have the best chance of his career to capture a ring. Jordan Hill and Jodie Meeks have proven that while inconsistent, they can contribute to a team with the right guidance and much success will depend on Metta World Peace's mindset and conditioning, but Kobe has some pieces around him that should help lighten his load and unlike the past couple of seasons, the Lakers have a true bench and point guard. Should Kobe trust his teammates enough to take some of that burden off him (and he clearly has a habit of rising to the occasion and making writers who question him look pretty foolish), he should be able to lead his new teammates down Hollywood's Redemption Road towards a championship.
Los Angeles Clippers: The Clippers have once again proven that they're no longer content with being perceived as the little brothers of the Staples Center, and have had a solid offseason in their own right. With the acquisitions of Lamar Odom and Jamal Crawford, LOB City should prove to have more dimensions to it than highlight dunks. Blake Griffin must prove a similar point if he wishes to show that he's up to the task of being the future of this team. His hard work is evident, as he showed flashes of a 15-foot jumper and some post moves, but as of this writing he's still very much the raw, hard working, super athlete who jumped over a car and turned "Mozgov" into a verb, rather than a basketball player. Griffin has yet to even approach his ceiling and potential as a player, so don't read into this as too harsh of a critique, but there's no denying that his game has yet to reach the level of his vertical leap.
Blake Griffin did his part in turning Clipper culture from miserable to hopeful, and Chris Paul turned hopeful into prideful. Paul has led by example and injected toughness and winning expectations into a once lost franchise. Never was this never-say-die attitude more evident than during the Clips' unprecedented Game 1 comeback against the Grizzlies this past postseason. The new chip-on-our-shoulder attitude seems to run deep as they appear to have a roster filled with blue collar bad boys (using that term loosely) Matt Barnes, DeAndre Jordan, Caron Butler, and potentially Kenyon Martin to help continue the mental makeover. Grant Hill and Billups' veteran leadership should work wonders with the youth in the lockeroom, and time will tell just much those two can contribute on the floor.
Crawford should fill the scoring void left by Nick Young's absence exceptionally and you'd have to believe that Lamar Odom can only improve upon a failed season in Dallas as he once again calls Los Angeles home. You can't overstate the importance of the role Mo Williams played as the unsung backup last season. His absence puts more pressure on Billups to be healthy, Bledsoe to develop, and Crawford to run an offense when CP3 is catching a rare blow. Other than that I see the Clips team that appears to be growing into itself right on schedule and will look to advance at least one round deeper into the playoffs this time around.
Golden State Warriors: With the movement of Monta Ellis and Dorell Wright, the final remnants of Nellie ball appear to be behind us. The true Mark Jackson era has officially begun in Oakland, and as expected there's a lot of impetus on molding youth from scratch. The status of this team is a relative question mark because, quite frankly, so many of these players are largely unknown. Brandon Rush, Jarrett Jack, and Charles Jenkins have performed nicely in complimentary roles, but more will surely be asked of them this season on this team than there ever has been before. Klay Thompson will look to build off of a solid season while Carl Landry will seek to prove that his issues with Monty Williams were an isolated incident, and he's ready to commit to playing hard on both ends of the court. The Warriors have high hopes for Harrison Barnes and his ability to do a little bit of everything on the floor and there's a tremendous cast of vets to guide him along the way.
David Lee is a double-double machine, and Richard Jefferson is another jack-of-all-trades type that any team would love to have. The major concerns surrounding this team has to do with the fact that they seem to have invested a lot of their potential in some very injury prone guys. When healthy, Andrew Bogut is as good as any center in the league. I realize the implications of that statement and stick by it. Andris Biedrins is a nice reserve big man and looked like a future All-Star when the Warriors were thumping the top seeded Mavs in 2007 (the last time he was healthy), but he hasn't been the same since. In addition, the man worthy of being the face of this franchise, Steph Curry, is always one ankle tweak away from sitting out half the season. Couple these rather ominous "what ifs" with the fact that we're not entirely sure how Mark Jackson will use all of these pieces even if he has them all at his disposal and we're left with yet another rebuilding season for the Warriors, with flashes of brilliance and high hopes for next year. Here's hoping that they stay healthy enough for the outlook to be that bright.
Sacramento Kings: On paper, these guys don't look half bad. A lot of young up and comers with nothing but upside ready to ruffle some feathers amongst the West's elite. The only problem is, this game isn't played on paper, and on the basketball court this team has a lot of issues. The ebb and flow of DeMarcus Cousins' maturity aside, this team is full of players who need the ball to be successful and no one who wants to share it. This team had all but tuned out Paul Westphal, so there's something to be said for Keith Smart having his first full season as head coach, but there's a real log jam of score first guards on that team which the addition of Aaron Brooks doesn't help and Thomas Robinson walks into a program where the inside touches will likely be made by Cousins and Jason Thompson. The bottom line is that a lineup of Tyreke Evans, DeMarcus Cousins, Aaron Brooks, and Marcus Thornton looks great on a fantasy team, but likely won't translate to real wins in the competitive West.
Phoenix Suns: If you'll excuse the obvious word play, as one sun sets another one rises. Steve Nash leaves the Valley of the Sun, but Alvin Gentry and management have done a tremendous job of ensuring that this team won't quietly fade off into the… well you get the idea. Former reserve Goran Dragic returns to Phoenix after cutting his teeth in Houston and after excelling with the Rockets, should be able to acclimate well to being the point man in Phoenix. The Suns have shown they have no real intentions of slowing the pace of play by signing swing man forward, Michael Beasley, who should rebound from an off year in Minnesota within a less stringent offense. For a time, Markieff Morris and Marcin Gortat seemed to be the lone bright spots in Phoenix (excluding Nash, of course) they should continue to perform. I'm sure the Suns would prefer to have Eric Gordon rather than Shannon Brown in their back court, but the potential for Telfair, Wes Johnson, and Shannon Brown to improve is present and worth mentioning. The signings of Luis Scola and Jermaine O'Neal are eyebrow raising, and you have to wonder if they can keep up with the rate of play. I think you have to wonder if Jermaine O'Neal has anything to give period, quite frankly. Scola struggled last season under McHale and failed to contribute consistently in any facet of the game. You have to wonder how he'll fare under Gentry. Maybe the organization sees him a safety valve in half court sets, a la Elton Brand in his first years in Philly, but we all know how that looked for a while there. The post Steve Nash era will have it's rough spots, but it's definitely worth keeping an eye on.