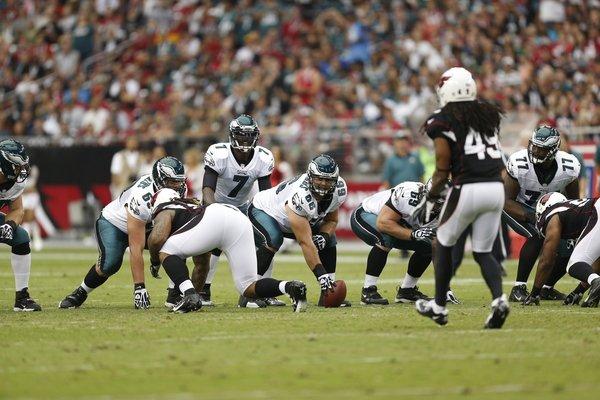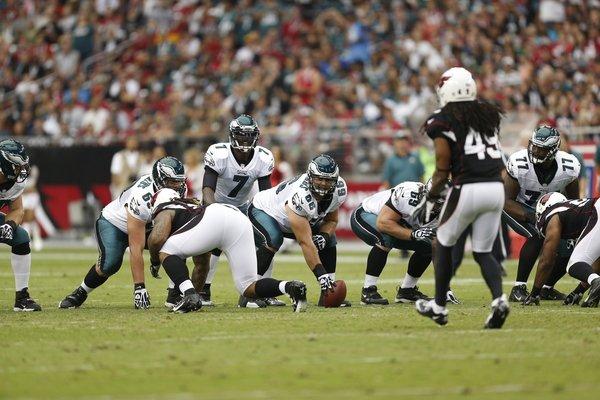 Last week the Eagles utilized a balanced offensive attack against a tough Baltimore Ravens defense.  They made it a point to run the football whether they were gaining yardage or not because they knew their offensive line would be unable to protect quarterback Michael Vick, if the Ravens defensive front was able to pin their ears back and rush the passer.
The Birds kept the Ravens defensive front guessing and the limited the hits on Vick.  Unfortunately, somewhere in between here and Arizona, Reid and his coaching staff forgot that reasoning.
The Eagles offensive line struggled on Sunday and Vick paid the price for it.  It wasn't a shock that the offensive line had a tough time blocking the Cardinals who had pressured Tom Brady the weak before.  Anyone who has seen the Cards play this year knows the Arizona defense is the strength of their football team, yet the Birds went into the game with another pass-happy game plan.
In the first half of the contest, Reid and offensive coordinator Marty Mornhinweg called 25 pass plays and only five running plays.
Vick, who could be faulted for hanging onto the football too long, was hammered time and time again all game long by the aggressive Cardinals defense.  You didn't hear a lot of people talking about Arizona's defense before the season, but they're talking about them now because it's obvious that they're one of the best defenses in the NFL.
Eagles center Dallas Reynolds struggled because the Cardinals attacked the A gaps of the Birds offensive line all day long with their defensive tackles and linebackers.  They sent blitzing linebackers into the A gaps, which are the gaps to each side of the center.  Vick is one tough son of a gun because he was able to take all of the hits but they definitely took their toll on him.
"He got hit too much", Reid said.  I don't see how Vick is going to be able to take all of these hits and stay healthy.
We all knew the Eagles were headed in the wrong direction when they started out the game with Vick throwing the ball on each of the three first offensive plays.  The play calling stayed that way all the way through the first half.
"Obviously we thought we could throw the ball and do a better job in that area, but we didn't," Reid said. "Hindsight, maybe we could have run the ball a little bit more."
I don't know how Reid and Mornhinweg could have looked at tape of the Cardinals and not come to the realization that they were going to have to keep the Arizona defense honest by running the football.