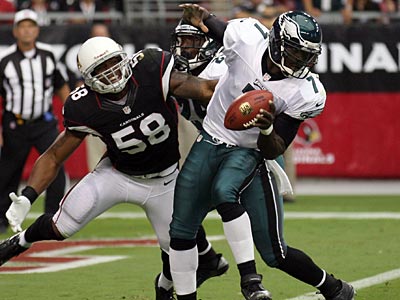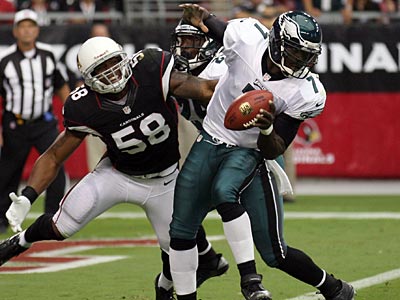 Yesterday when Andy Reid was asked about the play of his quarterback in his postgame press conference, Reid said that he never thought of replacing Michael Vick with backup Nick Foles.  However, Reid sang a different tune at his press conference today. When asked about the overall play from the QB position, Reid stated that "Right now we're with Michael and that's what we're doing.  We'll evaluate as we go."  I'd say that is not exactly a ringing endorsement.
As soon as Reid uttered that last sentence, national analysts and pundits were abuzz talking about the Eagles, and not in a way that's pleasing to the organization. I'm sure that Reid is regretting his moment of honesty.  However, the game tape doesn't lie. Michael Vick simply needs to play better.
This season was supposed to be better for Vick.  He dedicated his off-season to watching film, working on his mechanics and improving his overall game.  By all indications from management and the coaching staff Vick put the time in. He worked hard.  I trust that this was the case.  It's just that the results are not showing on the field.  Instead it's typical Vick;  inconsistent, careless with the ball, and unable to read opposing defenses the way a starting QB should in the NFL.  This was especially evident in yesterday's embarrassing blowout loss to the Cardinals.  For example, with the Eagles trailing 17-0, ball on the Cardinals one-yard line, with only six seconds remaining in the first half, Vick failed to recognize the blitz coming from his left.  This wasn't a disguised blitz.  It was a "tell everyone in the stadium – here I come" type blitz.  It was crystal clear that Cardinals safety Kerry Rhodes was coming (as well as other Cardinals).  Vick never picked up on the impending blitz.  As a result, he got destroyed and fumbled which led to a 93- yard fumble return for a TD, effectively putting the game out of reach for the Birds.
Now, this is not all Vick's fault.  The Eagles offensive line and overall pass protection has been shaky for three games.  On Sunday, Vick took a beating.  He was hit hard and often throughout the game, usually immediately after throwing a pass. Despite this fact, the Eagles game plan continued to focus almost exclusively on the passing game.  I have a huge problem with yesterday's game plan.  I'm pretty sure that the entire City of Philadelphia agrees with me that the Eagles MUST use LeSean McCoy more than they currently do.  It's baffling to me that the Eagles decided that their best plan of attack in a hostile road environment was to abandon the run game.  The Eagles must run the ball, early and often.  Featuring the running game will allow the Eagles to move the ball down the field more effectively, open up larger areas of the field for the receivers by bringing safeties closer to the line of scrimmage and keep Michael Vick from getting hit.  The statistics back this up.  Per Cecil Lammey, senior writer for Footballguys.com, the Eagles are 9-1 when LeSean McCoy has at least 20 carries in a game.  It's pretty clear Andy Reid can help Michael Vick out by installing a more diverse offensive game plan, integrating the running game into the offense, and designing protections that keep his QB upright.
As of right now, there should not be a quarterback controversy in Philadelphia.  As bad as Vick has played, the Eagles are still 2-1 and tied for 1st in the NFC East.  To bench Vick at this point for rookie Nick Foles would be foolish.  However, the bottom line is that Vick needs to be more consistent.  He needs to protect the ball, trust his reads and get rid of the ball when necessary (live for another day).  This will be a telling week for Vick.  The Giants and their fierce pass rush are coming into Lincoln Financial Field licking their chops at what they saw Sunday.  If Vick keeps turning the ball over, he may be turning over his job to someone else as well.