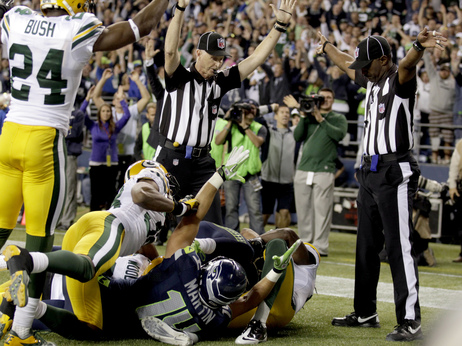 Would you put a pair of cheap tires on a $300,000 Rolls Royce?  Or put some cheap furniture from the Dollar Store in a $5 million dollar mansion. Of course you wouldn't.
Unfortunately, that's the way the NFL is doing by letting replacement referees call the league's games so far this season.  It started out as something which was a side issue, but now it's become the issue, thanks to the horrible job the replacement refs have been doing so far this season.  Yes things have been going badly, but they reached a new high last night in the Monday Night game which was seen on ESPN.
I think the embarrassing way in which the Seattle-Green Bay game ended last night will force the NFL to settle their impasse with the league's referees.  It was a horrendous call, which cost the Packers the game.
It looked like Green Bay Packers safety M.D. Jennings intercepted the final pass of the game, as he jumped over Seahawks wide receiver Golden Tate.  Amazingly after the play, the replacement refs ruled that Tate had possession of the ball.
There were two referees standing there by the play.  One ruled it was an interception, but the other ruled it was touchdown.  The touchdown ref won the battle.
On the replay you can see that Jennings clearly caught the football first and came down with it, but the replacements referees ruled a touchdown for Seattle, which game them a victory, 14-12.
"I've never seen anything like that in all my years in football," Packers head coach Mike McCarthy said.
Twitter was ablaze with people talking about the last call of the game.  Packers offensive lineman T.J. Lang took it to another level when he said.
"Got f***** by the refs.. Embarrassing. Thanks nfl," Lang tweeted, later adding, "Fine me and use the money to pay the regular refs."
It's past time for the NFL to bring back the referees or run the risk of ruining a great product.  The pressure is on and they must make the right decision.