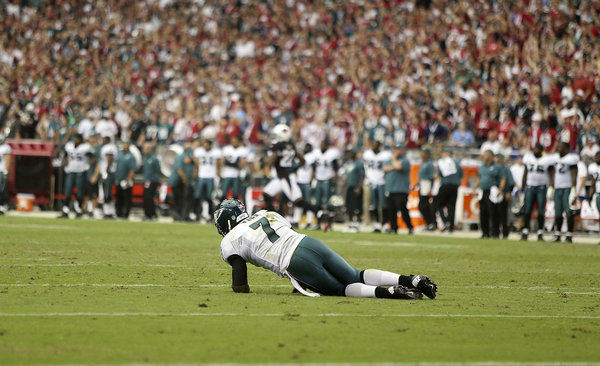 Last night, Andy Reid was trying to back off the statement he made yesterday about who will be playing quarterback for the Philadelphia Eagles going forward.
"Right now, we're with Michael and that's what we're doing," Reid said. "We'll evaluate it as we go."
Last night he was on 94WIP and he had changed his tune.
"It was the last question. I was finishing up the press conference," Reid said. "Michael's our quarterback. Period. Michael's our quarterback. Listen, does he need to get better? Do we all need to get better? Yes. We're all going to do that."
The first statement by Reid let us know that he has at least thought about making a change at the quarterback position.  There's nothing he can say which can clean that up.
It wasn't a major revelation to me because I don't see any way he could not have thought about making a change at quarterback when you consider all the turnovers which have been occurring when the Birds have the football.
It's getting harder and harder to argue that the "true" Michael Vick is the quarterback who lit up the NFL for most of the 2010 season, rather than the turnover machine who played for the Eagles last season and is still running the Birds offense right now.  Yes, you can blame Reid and Marty Mornhinweg for throwing the ball too much, but you can't blame them for the horrible decisions which Vick has been making.
An experienced quarterback like Vick should have seen Arizona safety Kerry Rhodes coming off the corner on the last play of the half.  I saw him and I was looking at the game on television.  An inexperienced quarterback can't be staring down receivers and throwing four interceptions in a game, then following that up with another game of more turnovers, then another game of more turnovers.
I know the Eagles won the first two games of this season, but it's a fact that you can't win consistently in the National Football League, if you're leading the league in turnovers.
Vick currently has a 66.3 quarterback rating, which is near the bottom of the league, with six interceptions and three fumbles in only three games.  It's step up time for Mr. Vick, there's no other way to put it.
In my opinion, the clock is ticking on Michael Vick and the clock is also ticking on his coach, Andy Reid.  We know that the clock will reach midnight for the coach at the end of this season if the team doesn't make the playoffs.  The fact that the clock is also ticking on his coach, will likely mean that Vick will have less time to improve his play before losing his job.
If Reid doesn't start to believe that Vick can take this team to the playoffs this season, he's probably going to replace him.
Bottomline, Michael Vick had better play much better immediately.