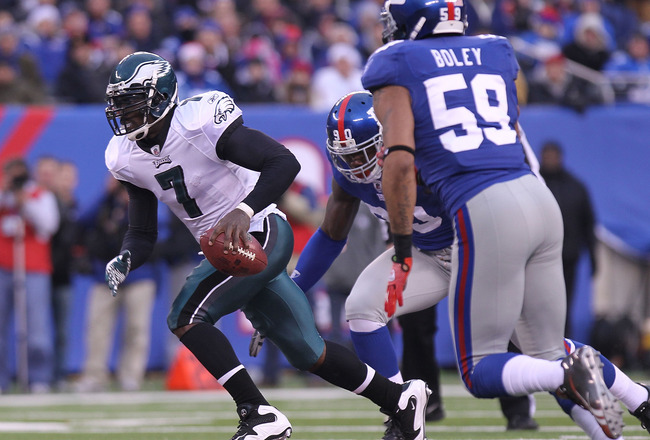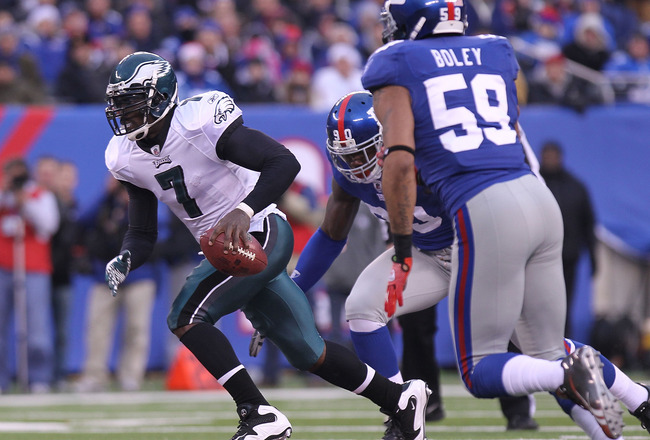 I think I can guarantee that the Giants are going to give the Eagles a heavy dose of blitzes on Sunday, so Andy Reid, Marty Mornhinweg, Michael Vick and his teammates had better be ready for it.  You would think the Giants with their outstanding pass rushing defensive line of Jason Pierre-Paul, Osi Umenyiora and Justin Tuck would rely on their pass rush to get to Vick, but I'm confident that they're going to be sending the kitchen sink after the Eagles quarterback on Sunday.
Check out the comments made by Giants linebacker/defensive end Mathias Kiwanuka to the New York Post.
"It used to be try and contain him, don't pressure him because he'll get by, but now it's more like, just go after him.  We've had that philosophy here for a while. We don't change that. We do that no matter whom we're playing. I think you're seeing other teams adopt that same game plan. I think it has just become a point of emphasis for everybody."
Remember a couple of years ago, when Vick was on the most amazing run of his career.  He had stunned the nation with his return to primetime and the game of his life against Donovan McNabb and the Washington Redskins.  Vick gained the attention of nearly all NFL fans by throwing eighty-yard touchdown strikes to DeSean Jackson, and making amazing twenty-yard dashes for touchdowns against the Skins as the Birds blew Washington out of their own building.
A short time after that game the Eagles went to Metlife Stadium and the New York defense employed an out blitz strategy against Vick and the Birds.  For nearly three quarters, Reid and Mornhinweg had no strategy to counteract what the Giants were doing.
You know the rest of the story.   Vick had no choice but to start running with the football.  So he used his speed and ability to make people miss to get the offense going.  It wasn't the Eagles scheme that put together the start of that great comeback.  It was the legs and athleticism of Vick.
The Giants helped things by making fundamental mistakes of losing contain and trying to kill Vick rather than just getting him on the ground.  The Eagles signal caller led an amazing comeback, but the Giants had let the league see Vick's vulnerability to the blitz.
The reason I told you that story was to let you see why the Giants strategy will be to blitz again against Vick and the Birds.  They're going to come after them with the blitz and their front four.  Vick and company had better be ready to make adjustments against the blitz because that's what they're going to see.