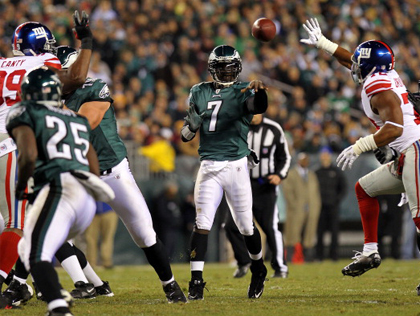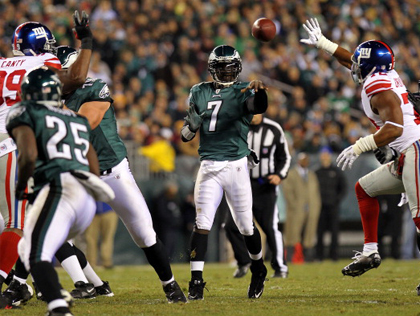 Vick Uses His Legs To Spark Success
Michael Vick played an encouraging game tonight. He wasn't sharp from start to finish, and there were a couple of throws that he'd like to have back, but he didn't turn the football over for the first time all season, and used his legs to make a couple of big plays to keep drives alive.
Vick carried the ball six times for 49 yards, using his natural speed and quickness to blow by defenders and pick up some important first downs. The quarterback's play tonight reminded me a little bit of some of his fantastic efforts from 2010. He kept his mistakes to a minimum, and he looked much more comfortable tonight because he played a little more like the Michael Vick of old, and not the Vick that has been confined to the pocket in the early parts of the season.
Balanced Offense Results In Victory
Astonishing. Andy Reid calls a balanced offensive attack, and the result is a much more efficient offense that powers the team to victory.
With Michael Vick not carrying as much pressure on his shoulders, the quarterback was able to play what might have been his best game of the season.
LeSean McCoy and the running game struggled to get off of the ground early, but Reid stuck with the run and eventually McCoy and his blockers began to wear the Giants down and rip off longer runs late in the game. Andy even got a couple of other running backs involved in the act, splitting six carries between Bryce Brown and Stanley Havili.
Lady Luck Was Supporting Philadelphia Tonight
The Eagles were very fortunate to come out of tonight's battle victorious. Although the team didn't turn the ball over at all, they still made a number of mistakes that could have cost them the game on any other night.
Worst of all was the team's redzone efficiency. The Eagles got down to the goalline twice in the second half, and both times had to settle for field goals, leaving eight valuable points on the field. It's just as important to capitalize on redzone opportunities as it is to avoid turnovers. Redzoen success has been another one of this team's issues in recent years, and it has to get better in the coming weeks.
Luck was also on the Eagles' side in the final moments of the game, as Lawrence Tynes missed a 54-yard field goal (twice) to end the game. the second attempt looked good when it first left the ground, but just didn't have enough steam on it to spoil the Eagles' night.
Pass Rush Goes MIA
In two straight games now, the defense line hasn't been able to generate pressure on the quarterback.
The biggest strength of the Philadelphia defense is their pass rush, but tonight this phase of the game just didn't show up. Eli Manning had all the time he needed to find open receivers, and wasn't sacked once and was rarely hurried.
Jason Babin saw a lot of double teams from the Giants, and Trent Cole wasn't much of a factor. Phillip Hunt, Brandon Graham, and Darryl Tapp were unable to provide much of a punch off of the bench.
Special Teams Are Nothing Special
The special teams units were absolutely atrocious tonight, particularly in kickoff coverage.
David Wilson ran back six kicks, and averaged 36 yards a return, including one that went for 53 yards. The Giants started near or on their own 40-yard line throughout the night, including on their final possession of the game.
Meanwhile, the Philadelphia return men still can't seem to make anything special happen. Brandon Boykin and Damaris Johnson have been non-factors in the return game throughout the season so far.
What's the deal with this unit? Wasn't Bobby April supposed to be the best special teams coach in the league? Since he joined Reid's staff several years ago, it sure doesn't seem to me as though he's made any kind of great impact on this unit. I can forgive one poor night of kick coverage, as the Eagles' coverage units have normally been solid, but the return games have been weak for years and don't seem to have improved a little bit.
Quick Thoughts
Alex Henery needed to be flawless tonight, and he connected on all four of his field goals.
The honeymoon with the regular refs is over. Those pass interference calls against the Eagles on the final New York drive were absurd. Fortunately, they did spot the offensive interference call that pushed the New York offense back by 10 yards, which turned out to be one of the most important calls in the game.
The Eagles' offensive line deserves a lot of credit for how they handled the powerful New York defensive line. Michael Vick was only sacked twice on the night, and the line opened up some nice running lanes for LeSean McCoy later in the game.
I don't think the secondary as a whole played a strong game tonight, but its hard to blame them for their failures when they had little support from the defensive line.
Brandon Hughes saw a fair amount of playing time once Nnamdi Asomugha had to leave the game temporarily. Hughes dropped an interception he should have had in the endzone that could have kept a Tynes field goal off of the board.
I'm surprised the Giants decided to lean heavily on Ahmad Bradshaw, and only gave five touches to Andre Brown. Bradshaw just isn't anything special to me, and I really like what Brown did a week ago in Carolina.
Anyone that was in the stadium had to be impressed by the Brian Dawkins retirement ceremony at halftime. I've never seen a team honor a player with such an impressive display, and its clear that Jeffrey Lurie really went all out to give Dawk a ceremony he deserved.
Even better than that was to see Dawkins come out of the tunnel, introduced as an Eagle one last time. There will never be another player like #20.
Final Thoughts
This is a very important and encouraging win for the Eagles. They picked up a win against a division foe, and possibly their strongest competition. They also made some strides by not turning the football over, and saw some improved play from their offensive line against a strong defensive unit.
For at least one week, the talk of benching Michael Vick for Nick Foles will go away, as the Eagles sit at 3-1 on top of their division. Next week a difficult road challenge awaits when the team visits the Pittsburgh Steelers, who are fresh off of their bye week.