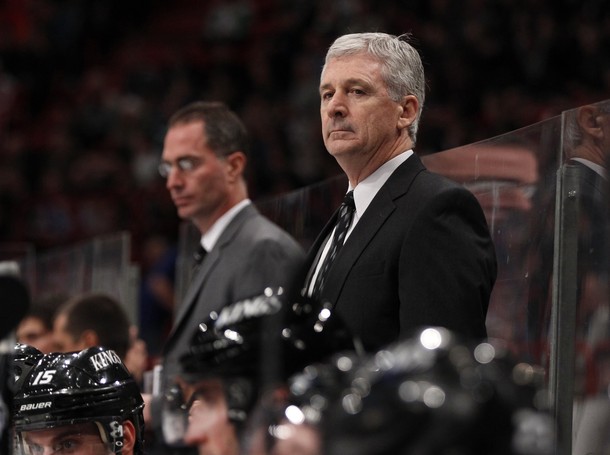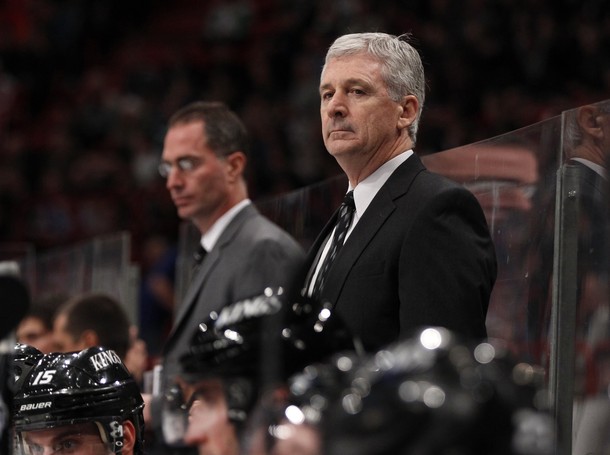 The Adirondack Phantoms' training camp began this weekend at the Flyers Skate Zone in Voorhees, NJ.  The camp affords the Flyers organization another opportunity to evaluate the players they have in the system as well as familiarize the players with their new coach, Terry Murray.
Murray replaced former Phantoms coach Joe Paterson earlier this year after the Phantoms once again failed to make the AHL post-season. The firing of Paterson was a bit of a surprise, as many fans and media members were impressed with how those players called up during the 2011-12 NHL season didn't miss a step with Flyers head coach Peter Laviolette's system.
Murray is best known as a defensive-minded coach. This earned him both praise and criticism after he was fired as head coach of the Los Angeles Kings last December. In May, his replacement, Darryl Sutter, spoke to the media about what he felt went wrong.
"The change that we tried to make was not to spend as much time in our zone.  It was defending to the point of—that's all you did was defend. Especially with a young team, it has to be firm and clear. They have to be allowed to use their ability. That's the biggest thing that I've found here… When you break it down, [adding aggressive play on the puck to a solid defensive system is] how the best teams play.  You have to be good defenders, but you have to be able to play that transition."
Peter Laviolette's system requires a seamless transition between forwards and defensemen in the offensive zone in order to sustain pressure against the opposition. Murray will have to teach his players how to balance the defensive aspect of the game with the frenetic compete level required in Laviolette's system.
Bill Meltzer of Hockey Buzz caught up with Murray at camp to discuss how he may adjust his system.
"Every coach has got their own philosophy and their own ideas in how to get something done, but the end result is you're trying to reach the same goal. You're trying to win. You're trying to develop players who are good players, players who become winners, players who become champions when they play in the National Hockey League. The main goal is the same. It doesn't matter what coach it is.

"Peter and I have talked. There are some things that organizationally you want to keep in place. That's been the same for anyone I've ever worked for. You want to have some consistency throughout the organization so the players are ready to get going with the big club, so when they jump on the ice there isn't any hesitancy with their game. They're instinctive and they play.

"(Teaching is) your job as a coach. I think when you look back at the days when I was playing, a coach was more about managing your ice time and position. Today, there's a lot of young players in the game and some of them are very close.

"It's going to take a hands-on approach of getting them some structure and discipline and information on how to approach their job on a daily basis. Learn how to embrace the hard work, learn how to come to the rink every day prepared to get on the ice. You take a lot of pride in that, but that's the job description that we have."
While Murray will be busy in Glens Falls, Laviolette is going to be idle in South Jersey as the NHL lockout continues.  It's an unfortunate position to be in, but there are limited options for head coaches beyond supporting local junior clubs (in Laviolette's case, Team Comcast of the AYHL).
The Washington Capitals have decided to address this situation by sending new head coach Adam Oates to Hershey to serve as "Co-Coach" of their AHL affiliate, the Hershey Bears.
"We think it's a great opportunity for all of our coaches in the organization to work together to learn the nuances of our system of play," General Manager George McPhee told Mike Vogel of the Capitals' official website.  "We also think it's a great opportunity for our NHL coaches to get to work with our young players and frankly to give them something to do. There's no sense in them sitting in Washington when they could be active in Hershey."
It's an interesting idea, but arguably works better for the Capitals than most franchises because Oates has not established a system at the NHL level yet. This is an opportunity for him to work with Bears coach Mark French on working out any potential flaws for what he is proposing.
For the Flyers, you'd have to wonder how well Laviolette and Murray would work together under this type of arrangement.  I don't think either coach would be comfortable not having full authority, nor would it be clear to the players whose direction should be followed.
Hopefully Murray and Laviolette can continue to develop their professional relationship as the AHL season progresses.  Whenever the NHL returns, Laviolette is going to have to rely on Murray to have his younger players prepared to step up immediately.