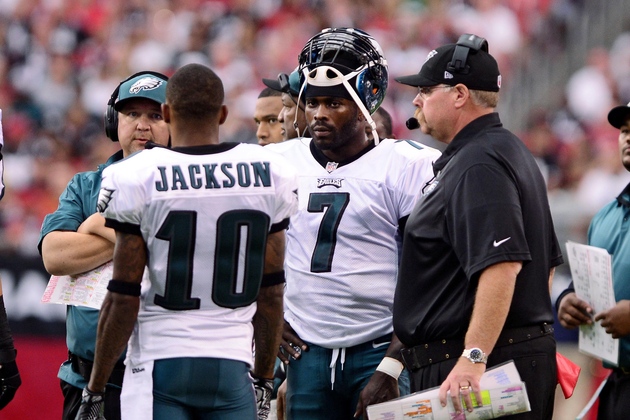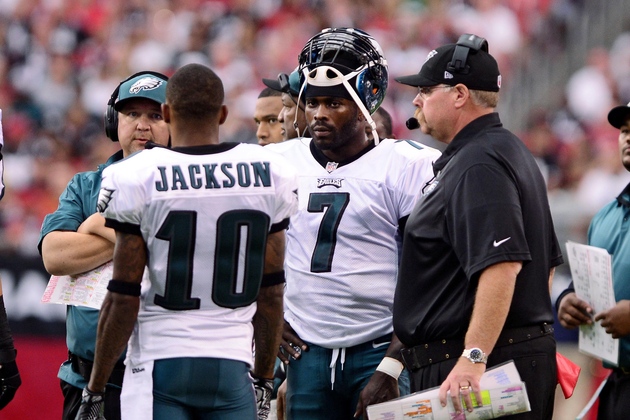 It's Up To Andy To Improve Vick

Michael Vick has been terrible. There's no other way to look at it. The veteran quarterback has been a disaster so far in 2012, tossing six interceptions and losing three fumbles in the first three games of the season. Turnovers have been a major issue for this team, and to have their quarterback committing them at an alarming, league-leading rate is a recipe for failure.
However, while I'll be the first person to criticize Vick for the flaws and limitations in his game, I'll also be the first to tell you that his head coach is doing him no favors. Pass-happy Andy Reid has been the head coach for two of the three games this season, and his poor playcalling has only made Vick's problems worse.
Opposing defenses have more or less been able to completely forget about LeSean McCoy and running game, and are easily forcing Vick into mistakes by relentlessly sending blitzes (that the Reid's offense have had no answers or adjustments for) at the quarterback, and successfully taking away the deep routes to DeSean Jackson and the other Eagle receivers that Andy and Marty Morhinweg seem to love so much.
Why is it such a hassle for this coach to put the ball in the hands of his best player, LeSean McCoy? Reid did a good job balancing the offense in Week 2 against Baltimore, and Michael Vick was a much more effective player in that game when the weight of the team wasn't only on his shoulders.
At the end of the day, I feel that Vick's inability to properly read and anticipate defenses combined with his turnover tendencies will always be an issue for this team, but these issues could be significantly reduced, if not masked, if his coach were to put him in a position for success with a balanced offense.
How The Giants Can Beat The Eagles
New York will need to overwhelm the Eagles defense with the wide variety of offensive weapons that they have available to them. Although they'll still be without Hakeem Nicks, they still have an explosive target in Victor Cruz, a dangerous redzone threat in tight end Martellus Bennett, and a couple of young players that have given them a boost in recent weeks like Andre Brown and Ramses Barden.
Eli Manning has a great command of this offense, and he can pick this defense apart if his offensive line can give him enough time. The Eagles' secondary had no answer for Larry Fitzgerald a week ago, and the depth of this New York offense could prove to be just as challenging. Manning can look to test young and unproven members of the secondary like Brandon Boykin, Kurt Coleman, and Nate Allen.
Defensively, the Giants simply need to do what they do best: get to the quarterback. Michael Vick is not playing well at all right now, and his patchwork offensive line is something that New York will need to exploit. If the Giants' defensive line can do enough damage with just their four-man rush, they have their back seven drop into coverage and wait for Vick to make a mistake.
Why The Eagles Will Win
The Giants have a lot of injuries that the Eagles could take advantage of, particularly on the defensive side of the ball. The New York secondary has already placed starter Terrell Thomas on injured reserve, and another starter (Corey Webster) will be playing with a broken hand. Add in the fact that their reserve defensive backs are banged up too (Jayron Hosely is out, Michael Coe is questionable), and I have to believe that the New York defense is going to have a difficult time with the Eagles' receivers.
The return of Jeremy Maclin should be a huge shot in the arm for this group. The Eagles get a playmaking receiver back on the field, and his presence will open things up for the rest of the group. Maybe this is the first game in 2012 that DeSean Jackson really breaks out and makes a difference? Maybe this is the first game that Jason Avant receives a heavier workload? Against the weakened New York defensive backs, the receivers are going to have opportunities to make plays all night.
LeSean McCoy is going to be more involved in the offense than he was a week ago. I think this is a week Reid "does a better job", and gives one of the best running backs in football a good opportunity to make an impact on this game.
One of Andy Reid's positive traits has always been that his teams typically bounce back after embarrassing losses. It isn't very often that the Eagles have lost two games in a row or more during Reid's tenure, and I feel that this is a week that he'll have his team ready to play.
Final Thoughts
The Eagles are in a position where they have a lot to prove. Although they currently sit at 2-1, they could just as easily be 0-3. Michael Vick is now in a position where his job security is in doubt, and must come up with a big performance to keep rookie Nick Foles on the bench.
Philadelphia has also had the Giants' number as of late, winning seven of the last eight meetings.
There are a lot of reasons to like the Giants in this game too. Eli Manning and the New York offense looks deep, and they're playing extremely well right now. The New York defensive line has the potential to create chaos and really disrupt the flow of the Eagles' offense. However, I feel that this game means much more to the Eagles than it does to the Giants, and I like the Eagles to bounce back from a disappointing loss to the Cardinals on Sunday night.