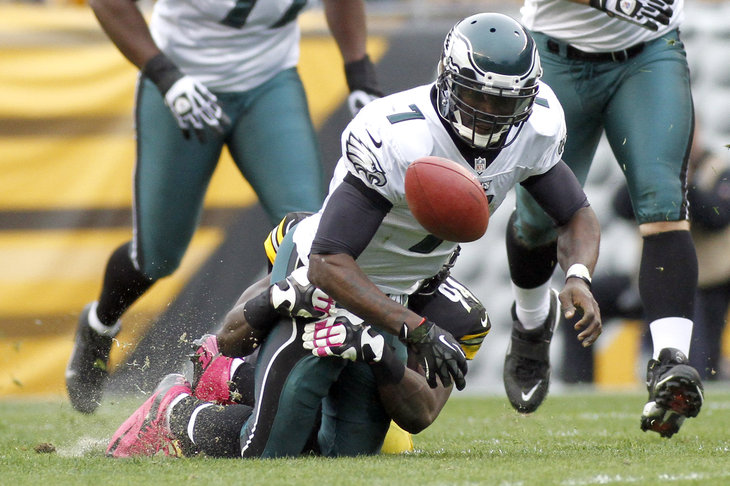 In two of the Eagles wins this year, they were able to overcome turnovers, but today it caught up with them, just like it did in their other loss.  As expected the Pittsburgh defense was coming after Michael Vick.  They were pummeling him with hits by sending blitzers from both off the corner and up the middle.
The quarterback was able to withstand the hits and he led a fourth quarter drive which put the Birds ahead, but it's very simple regarding Vick.  He's got to hang onto the football.   Number seven fumbled the football four times, but was very fortunate to only turn it over twice.  He can't keep turning the football over like this and expect to win.  It's not going to happen.
The lefthander has to put two arms around the football and hang onto it when he gets tackled.  Put the ball away.  The fumble on the one yard line was very costly to the Birds.
Vick did a good job of throwing the football and not throwing into crowds.  He was 20-30 for 175 yards with two touchdowns for a quarterback rating of 104.2.  Vick threw a touchdown pass to LeSean McCoy who cut back on inside linebacker Larry Foote and accelerated into the end zone from 15-yards out.
In the fourth quarter, the quarterback led the Eagles on a 17-play, 79-yard touchdown drive, which culminated with a two-yard touchdown pass to tight end Brent Celek, which put the team ahead.
LeSean McCoy had a good game despite rushing for only 53 yards on 16 carries.  Number 25 was dodging tacklers as soon as he got his hands on the football.  He caught four passes for 27 yards with one touchdown catch.
The defense played a good  game for most of the contest, but couldn't make a play on the last drive to get off the field.  I think Juan Castillo and the defense might have gotten too conventional against Ben Roethlisberger.  I would have dialed up a few blitzes to change up the look we were giving him.
The big guy knew what the defense the Eagles were going to be in during that last drive.  We should have changed things up, so that he wasn't so sure about the defense we were playing.
Roethlisberger completed 21 of 37 passes with not touchdowns and no interceptions.  On the final drive, he completed a key 3rd down play on 3rd and 12, when he hit Antonio Brown for 20 yards.  On another 3rd down on the drive, Big Ben connected with Emmanuel Sanders for seven yards.
The defense couldn't get off the field and the Steelers sealed the game with a field goal by Shaun Suisham.
Check me out on 94WIP tonight from 7-10pm.