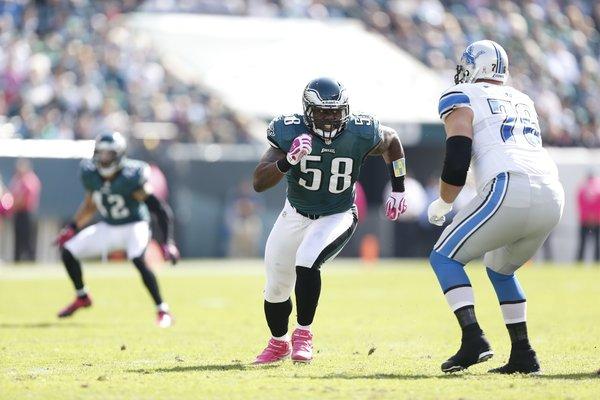 The Eagles defense got a break for most of the day because Lions quarterback Matt Stafford was missing wide open receivers.  He was out of sync and it wasn't because the Birds defense was playing so well.  On one play Stafford missed wide receiver Nate Burleson, who had beaten him man on a crossing route.  Stafford threw the ball at Burleson's feet.
He missed tight end Brandon Pettigrew, who was open down the seam.  Stafford missed a couple of out routes and wide receiver Titus Young dropped a deep throw which was right on the money.
Stafford found his touch in the fourth quarter and the only thing that could have stopped him was the Eagles supposedly feared pass rush.
Andy Reid brought in Eagles defensive line coach Jim Washburn and they installed the "Wide Nine" defensive front so teams wouldn't be able to come from behind against a tough pass rush.
For the third game in a row, the Eagles defense failed to register a single sack.  They've played six games, yet they've only come down with seven sacks.
Not only did our vaunted defensive line fail to sack Stafford, but they were also unable to get pressure on him.  The Lions front four was punishing Michael Vick, but Stafford was fairly comfortable in the pocket.  It was just a matter of time until he was going to start connecting.
"Both teams did the same thing. We both held people in to protect, but it looked like they got more pressure than what we did," Eagles coach Andy Reid said. "So we have to do a better job there."
The Eagles offense was unable to build up enough of a lead to hold him off.
Fletcher Cox on getting kicked out: "I can't afford to do that." Said he punched player
Nnamdi Asomugha was the only player still in full uniform in locker room. He was sitting with head down at stall.