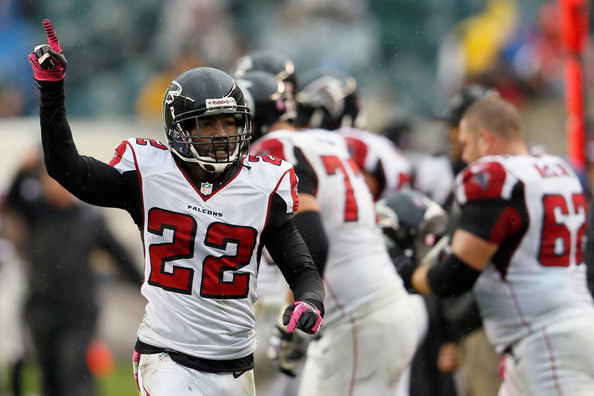 Every time a player is released or traded he longs to get the chance for revenge against his former team as a way of showing them that they made a mistake.  Most of the time that opportunity never comes around, but former Eagles cornerback Asante Samuel got his revenge yesterday.
He and the Falcons dominated the Birds in a 30-17 victory and Samuel was all smiles and bravado in the post game.
"Man, it felt great — in front of all my fans that love me!" Samuel said as he conducted court after the game. "The best team after the bye week is us. It just felt good. That was a good ol' fashioned ass-whoopin' right there."
The cornerback who was never short for words went right after his former head coach, Andy Reid.
"Can you believe that", Samuel said referring to him approaching Reid after the game. "He didn't speak to me. Like it's my fault. What did I do to you?" Samuel asked. "I think it was the way we were dancing out there. It got to him a little bit.
"I gave a what up to him: 'What's up coach?' I don't know why [he didn't speak to me]. He deferred [after the coin toss]. What the hell."
Samuel really enjoyed sticking a verbal dagger in Reid's back, when asked about what was the difference in the two teams.
"The difference between these teams I think is the coaching," he said. "We got really good coaching. We run the ball. Time of possession is real good."
Samuel did get straight-armed to the ground by LeSean McCoy before the running back went into the end zone for the Eagles first touchdown.  He also missed a tackle on DeSean Jackson on a short hitch route and the wide out turned it into a 32-yard gain.