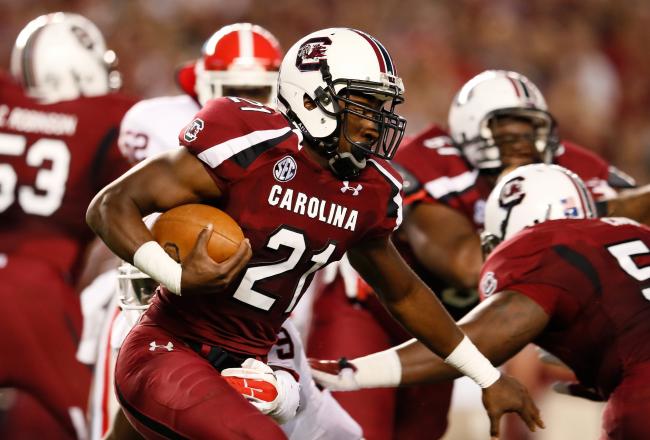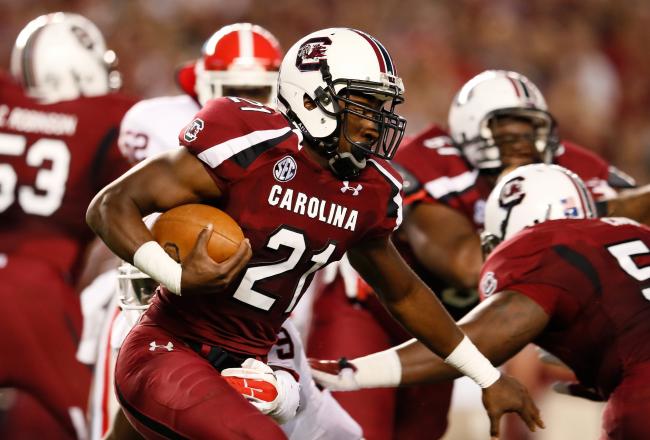 All week we heard reports of a potential perfect storm heading up the coast. After Saturday I think the NCAA has their own potential perfect storm brewing. Four teams came out of the weekend with a legitimate claim at the number one position in the country. Most years this problem takes care of itself with a few of these teams either playing one another to eliminate the other one or falling to a tough opponent. When I look at the schedule sure these teams could loose but I do not see any of these teams being an underdog in any game. This creates an absolute nightmare for the NCAA. What if Alabama, Oregon, Notre Dame, and Kansas State all finish undefeated?
Alabama will have its toughest tests remaining the next two weeks as it faces LSU and Texas A&M. The Tide haven't  even been challenged this year. Saturday night the 11th ranked team in the country Mississippi State  averaging 33 points per game moved the ball a bit but never were a threat to the Tide as they appeared to go into cruise control in the 2nd quarter. They started at number one and will remain at number one should they win out.
Oregon just crushed Colorado putting up over 50 points in the first half. Oregon has USC next week which at the beginning of the season looked like it had game of the year written on it. USC suffered it's second loss of the season yesterday to Arizona so unless USC finds a heart this week Oregon should walk out of California with a win  Saturday. USC has the offense to stay with Oregon but I don't think they have the depth on the defensive side of the ball to stop them for four quarters. After USC Oregon has Cal, Stanford and Oregon State.
Kansas State has been the true surprise team of this season. They have been as impressive as any team in the country. Why I am not 100% sold on them they continue to prove me wrong. I believe they will be tested this week against Oklahoma State who can match them score for score. If they survive the Cowboys I think they will beat TCU, Baylor and Texas after.
Notre Dame proved around 85% of the country wrong on Saturday evening. There were a handful of us who thought it would be close but I cant say I had them winning outright. I had a close Oklahoma win as I always will be honest. We saw a huge step forward for redshirt freshman Everett Golson and another dominant performance by Manti Te'o who should now be a serious contender for the Heisman Trophy. No defensive player has one the Heisman since Charles Woodson in 1997. The Irish will be a heavy favorite against Pitt, Boston College and Wake Forrest before finishing the season against USC. Pitt has turned their season around after a horrendous start. If the Irish can avoid a hangover next week that should set up a showdown with USC to secure a perfect record in 4 weeks.
As someone who covers the game as well as  loves the game it was a sad moment to see the season and possibly career ending injury of South Carolina running back Marcus Lattimore Saturday. Lattimore worked extremely hard to return from a season ending injury on the opposite knee last year.. It was a gruesome injury to watch and a classy move by both teams as they surrounded him being put on the cart to be taken to the hospital. We can only hope he recovers and realizes his dream of playing in the NFL. He was one of the top three running backs coming out after this year.
I keep hearing which one loss team has  a shot to get back in it. Before this week I heard Oklahoma, USC, LSU, Florida State. Who I didn't hear was Clemson. Clemson is a good football team. Their loss unlike the others wasn't to an inferior team it was on the road to a higher ranked opponent. I know Florida State got the better of them the first time around but give me Clemson as the best one loss team.
I have said this name a few times already this season but if you haven't had a chance to see freshman TJ Yeldon play yet you should. I say this knowing what huge shoes they are to fill but Yeldon reminds me of Herschel Walker when I saw him for the first time. So far as a true freshman (splitting time with another bruising back Eddie Lacy) all Yeldon has done is run 93 times for 649 yards ( a 7.0 yard per carry) and 7 touchdowns on the number one team in the country. He doesn't need to carry the ball 35 times for me to say he is the best back in the country already. He has that unique blend of size and elusiveness that few do. Get use to hearing his name he will be around for a few more years before being a top 5 pick in the 2015 NFL draft.
I got a great response from my all time team from 1985 to 2012 so I figured I would now select a team from 1970-1985 and then compare them and come up with one team out of the two. So here is my all time college offense skilled positions from 1970-1985
QB – Doug Flutie ( Boston College ) Flutie won about every major award in 1984 as college football's best quarterback and overall player. He also was the consensus player of the year voted by The Sporting News and The Maxwell Club. Flutie left Boston College at the time the NCAA all time leader in passing yards ( 10,579 )
Before selecting the running backs I have to say this was an incredibly difficult choice there were 10 legitimate backs that were capable of this so I will be interested to hear the debate. Perhaps our greatest era of college backs ever
RB– Tony Dorsett ( Pittsburgh )  Dorsett in 1973 became the first freshman to be named First Team All American in 29 years. He was a three time First Team All American 1973,75,76 and a second team in 1974. In 1976 he won the Heisman Trophy, Maxwell Award and Walter Camp for player of the year while also leading Pittsburgh to a National Championship. More importantly in 1973 when he arrived he led Pittsburgh to their first winning season in 10 years. He rushed for 1586 yards and 11td's as a freshman and his 6082 yards were good for the all time leader until Ricky Williams broke his record in 1998. Dorsett has been on many top 10 college players of all time list.
RB – Charles White ( USC )  White won the Heisman in 1979 and when he left USC after his four year career he left as the NCAA's 2nd all time leading rusher with 5598 yards. If you included bowl games he finished with 6245. White was a two time unanimous All American and set 22 NCAA, Pac 10, USC and bowl records. He rushed for 100 yards 31 times including 10 times in 1979. In 1979 he averaged 186.4 yards per game and a 6.2 yards per carry. He led the nation in rushing two times.
Let the debate begin left off the list were two time Heisman winner Archie Griffin, Bo Jackson, Mike Rozier, Earl Campbell and Billy Sims.
WR– Anthony Carter ( Michigan ) Carter was a big play receiver for the Wolverines. He finished in the top 10 in Heisman Trophy voting twice and was a consensus ALL American twice in 1981 and 1982, Carter finished his career with 2,681 yards and 33td's
WR – Jerry Rice ( Mississippi Valley State ) Rice's numbers were off the charts. He finished his career with 301 receptions 4693 yards and 50 touchdowns. His junior year he hauled in 102 catches for 1450 yards and 14td's; his senior year 103 catches 1682 yards and 27 touchdowns.
TE– Dave Casper (Notre Dame) Called by his coach Ara Parseghian the best athlete he ever saw Casper was a consensus All American in 1973 hauling in 21 catches for 355 yards and 4 touchdowns. Casper played two seasons at Offensive Tackle before converting to Tight End. Casper was the captain of the Irish in 1973 when they won the National Championship.
There are some huge games this weekend. At noon you have Texas A&M at Mississippi State. I expect the Bulldogs to make a better showing against the Aggies then they did against Alabama Saturday. Johnny Manziel continues to be a dynamic QB who has led the resurgence of  A&M.  The 3:30 slate has Pitt at Notre Dame. Will Notre Dame have a let down after that huge win at Oklahoma Saturday night? I expect the Irish to win but look less impressive then they did a few days ago. Ole Miss visits Georgia. Georgia comes in sky high after beating Florida but they better be careful or it will all be for naught. Ole miss has won two in a row including a win over Arkansas Saturday. For the local fans Penn State visits Purdue can the Lions rebound off that tough loss to Ohio State. 7pm we have heavyweight bout number one as Oregon visits USC. This game has lost some of its luster due to the Trojans just underperforming all year. Targeted by many to be playing in the BCS title game any last thoughts they or their fans had were crushed when Arizona smacked the Trojans this past weekend. The feature bout goes to Alabama at LSU. Playing in Death Valley is a difficult task and LSU did give Bama its last defeat this past  November. I think Alabama will be ready and will handle their business.
On a side note I go back to my baseball preview on March 27th and will give you the last sentence: And the World Champion will be "The San Francisco Giants" Yes sometimes I even get it right….look for the Pro Basketball preview later in the week.
Be safe and have a great week. After a huge storm the animal shelters will be at capacity. Please donate and change lives.