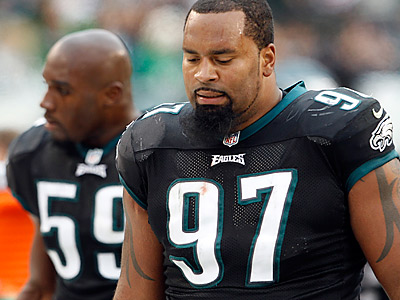 Players always get old, but you never know when they're going to become ineffective.  For years the Eagles refused to get involved with big name free agents who were either past or nearing the age of 30.
They walked away from many free agents because of their age.  They said good-bye to their own players rather than signing them to long-term deals when they got close to thirty-years old.  After looking at their disappointing defense, it seems that they should return to their 30-year old rule.
They had a good reason for that rule.  They never wanted to get caught relying on a free agent who was on his way down hill.  They would cost big money, but not pan out.  This seems to be what is happening to the Birds right now, especially with the defense.
The Eagles signed a few prized free agents before the 2011 season and few if any of them have lived up to their billing.
Defensive tackle Cullen Jenkins was billed as one of the keys to the Green Bay Packers run to a Super Bowl title after the 2010 season.  Jenkins is 31 and approaching 32.  So far he has notched one sack and 13 tackles after seven games in the 2012 season.
His lone sack was made at the end of the loss to the Falcons when Atlanta quarterback Matt Ryan slid on the ground to protect the ball and run out the clock.  Rookie Fletcher Cox and free agent Cedric Thornton have totally outplayed him.
He started out with a bang at the start of the 2011 season with five sacks, but has done next to nothing since then.
They signed defensive end Jason Babin and he put up a big year in 2011 with 18 sacks, but he hasn't done much in 2012.  Babin is undersized for his position but was able to get the job one in 2011 with tremendous effort and tenacity.  He seems to have run out of gas this year.
His partner on the other side, former Eagles fifth round draft pick Trent Cole seems to have run out of gas, as well.  Cole is 30 years old.
The Eagles front office were in a celebratory mood when they signed former Raiders cornerback Nnamdi Asomugha.  He was supposed to be a future Hall of Famer and the best shut down cornerback this side of Dorrelle Revis.  It hasn't worked out so far.  Last year the excuse was that he wasn't being used properly by defensive coordinator Juan Castillo.
Castillo is no longer here and Asomugha is being allowed to play as much bump and run as he wants to do.  He's still getting beaten and has become the target of opposing quarterbacks.
There's no way that he's worth the millions of dollars the Birds are paying him.  I see no reason the Birds should have him back in 2013 with the way he's played in 2012.  It seems every other game, he's getting beaten for a score.
Middle linebacker DeMeco Ryans is 28 and still playing at a very high level.  He's still has his quickness and explosiveness.  Once the legs go a player can't play at the same level anymore.  The Birds don't need to resign after his deal is up in a couple of years.
Of course saying good-bye to aging players means you've got to do a good job in the draft.