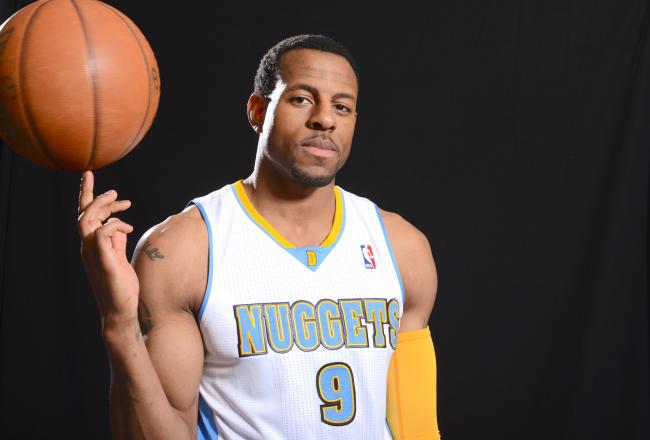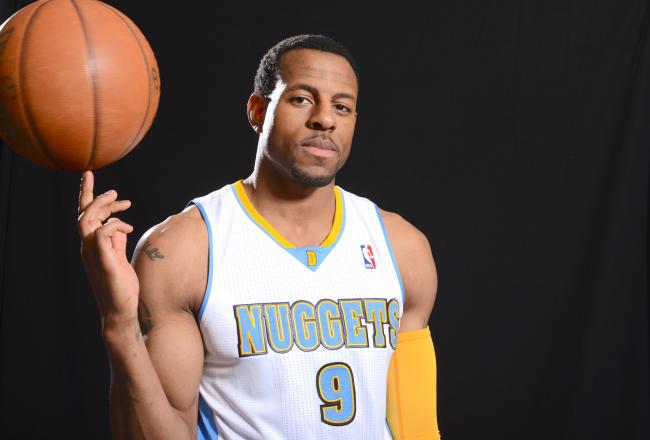 Denver Nuggets: There's no denying that the Nuggets will continue to have one of the most dynamic and entertaining offenses in the league and George Karl's teams have always been notorious for their depth and reliance, almost to a fault, on a 12 man rotation. The Nugget's ability to turn the corner will be determined by Ty Lawson and Kenneth Faried's continued growth and development, for which both appear to be poised. The heady vet, Andre Miller, and a vet with a rather swollen head, Andre Iguodala in the Rockies. Part of the Nuggets success last season, pushing the Lakers to the the limit in the playoffs, was Danilo Gallinari's ability to step up and make big shots. He was about as close to a superstar as Denver had. Iguodala's addition creates an interesting wrinkle in the Nuggets' potential. Iggy's rise to semi-stardom after years of only talking the talk and not walking the walk had everything to do with Doug Collins' coaching and his time on the national team. Iggy's true niche on the court is that of a playmaker, when he had a proverbial leash on him and was not so dead set on being a shotmaker, both Iggy and the Sixers never looked better. If Iggy can maintain that playmaking mindset, the sky is the limit for both he and the Nuggets, but if he reverts back to old habits in this freer offense, the Nuggets organization my live to regret his acquisition. It should be noted that no matter what, Iggy has the potential to flourish in that fast-paced offense, and with Gallo and Iggy locking down the perimeter, if Javale McGee can play with his head on his shoulders consistently, as he did last post season, the Nuggets may fulfill Mile High expectations.
Minnesota Timberwolves: The Wolves finally appeared to have a team tailored for Rick Adleman's system and interest in Wolves basketball was at its highest since Kevin Garnett and, dare I reference him, Spree, suited up in the Twin Cities, then the injury bug bit and bit hard. Rubio's recovery will be something to monitor going forward, but there's no question that the real blow here concerns the implications Kevin Love's broken hand  The team will once again face an uphill battle until those two are on the court again, but there's a chance that some saving grace can be found in the rest of the roster. Obvious questions linger about how one-time superstar Brandon Roy's knees will hold up to the grind of the NBA season. The Wolves, likely didn't expect to have to lean on him as much as they might have to at the season's begining, but that surgery worked wonders for Kobe, and it should put some tread back on Roy's tires. If he can stay healthy, Kirilenko could flourish outside of Utah coming off a season overseas. Rick Adleman's offense isn't exactly free, but the change of scenery and a lack of other options could revitalize AK 47's once promising career. Love's absence will create ample opportunity for Derrick Williams to prove his mettle, and a banged up Luke Ridnour may well be a blessing in disguise for the the Wolves, as minutes will open up for the dynamic JJ Barea. As encouraging as all of this sounds, there's no replacing a Kevin Love, or even Ricky Rubio and the fact that your two best players otherwise are walking injury risks is beyond disheartening. As a Wolves fan, you have to hope you can tread water in their absence, but regardless, this team only goes as far as a healthy Love and Rubio lead them.
Portland Trail Blazers: To say that last year's season in Rip City was a disappointment is an understatement and this year will likely wind up being more of the same. However, up-and-coming rookie guard, Damian Lillard could go a long way in rewriting that script. Lillard's preseason indicated that he's prepared for the NBA game, and the prospect of him playing alongside the talented LaMarcus Aldridge is enough to have Portland fans salivating for basketball. The Blazers haven't been this excited about a rookie since the ill-fated Greg Oden. The Blazer rotation is rounded out by two versatile swingmen in, Nicolas Batum and Wes Matthews who still have a lot of upside to their game, but even if all three of these players play to their potential Portland's squad is still very young and, until proven otherwise, not very deep. The team will likely struggle and the time of them being perceived as the sleeper team in the West is behind them, but at least it will be good to know that Aldridge will not be out there playing alone, as it looked at times last season.
Oklahoma City Thunder: On paper, the Thunder's chances of repeating a trip to the Finals took a hit when they traded James Harden to Houston, but Jeremy Lamb as a long term investment may prove wise, the Thunder have a knack for making those calls, as Westbrook and Harden both had players projected to go before them when they were drafted by OKC. Also, let's not forget just how skilled a shoot Kevin Martin was outside of the context of last season's apparent rough patch. However, Martin likely won't get the volume of looks he did when he was in Houston as he plays third fiddle to Durant and Westbrook. If Martin gets licence to run the second unit as Harden did, Martin may pleasantly surprise. There's no question Martin doesn't fill the intangibles of defense, passing, and beard-growing that Harden did, but this is far from a one-sided trade. Health concerns circling Perry Jones resulted in him falling to OKC, if he can be healthy, he may prove the steal of the draft. Eric Maynor's return should help that second unit keep the pedal to the medal and leave opposing teams in the dust. The Thunder have one of the deepest front courts in the league with Perk, Ibaka, the under-sung Collison, and even Thabeet, who will likely play well with no offensive expectations on his shoulders. Oh yeah, then there's Durant and Westbrook who, already at the top of their profession, seem to improve every year. Bear in mind, a lot of the Thunder errors in the Finals were mental. Another year of maturity could do wonders for this squad as they undoubtedly march towards title contention.
Utah Jazz: This team looked pretty woeful by last season's end, but that had as much to do with San Antonio hitting its stride as it did the Jazz struggling. Mo Williams at point is an improvement over Devin Harris who appeared to lose all confidence in his game last season. The Jazz have one of the best starting front courts in the league in Jefferson and Milsap. Gordon Hayward and Derrick Favors' continued development will shape this season's depth and perhaps, if Marvin Williams can finally meet his potential halfway, the Jazz could turn some heads. Odds are this team will again be in the awkward middleground of too good to break up, but not enough there to really compete. New found guard depth and Marvin Williams' promise at least keeps that glass half full in Salt Lake City.