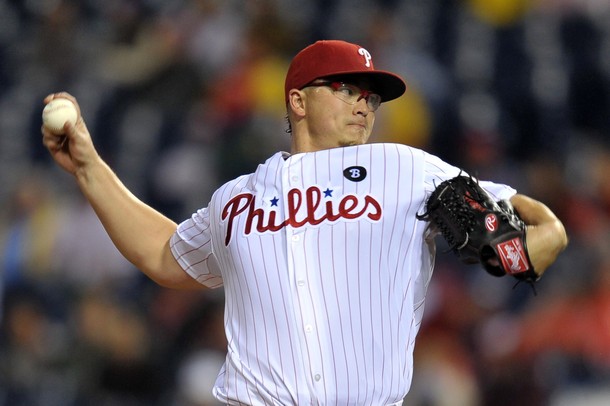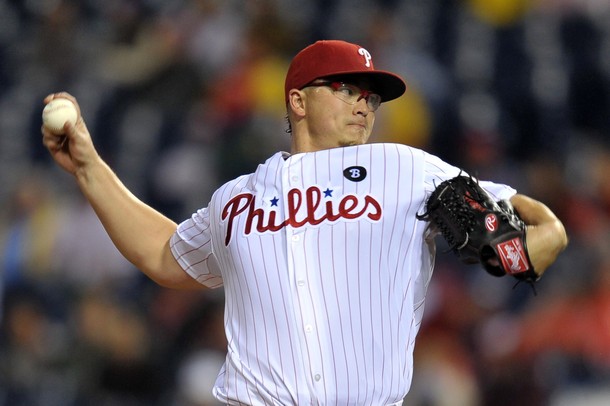 2012 Expectations
Vance Worley was expected to be a dependable fourth starter in the pitching rotation. The 25-year old was a major surprise in the 2011 season, compiling an 11-3 record with an ERA of 3.01. Injuries to Roy Oswalt and Joe Blanton created an opportunity for Worley to prove he belonged in the big leagues, and he impressed the team so much that they felt confident penciling him in for the fourth starter's spot in 2012, and declining their option on Oswalt.
2012 Performance
It was a rocky road for Worley this year. The righthander started strong, but battled an elbow injury throughout the season that made it increasingly difficult for him to pitch effectively and go deep into games. He finished the season with a 6-9 record and a 4.20 ERA before being shut down for the year at the end of August.
Before he suffered his injury, Worley was pitching quite well. In his first five starts, he put together a 2-1 record with a 1.97 ERA. Then in the middle of May, the team learned of his elbow problem and placed the young pitcher on the disabled list for a couple of weeks. While doctors revealed that Worley would need surgery to solve the problem, they also said it would be possible for him to return and play out the rest of the season.
Worley returned to the rotation in June, and pitched pretty well in his first five starts, going 1-2 with a 2.70 ERA. However, as time went on it was clear that the elbow injury was becoming more of an issue.
Worley struggled heavily in his final 11 starts. He went 1-2 with a 6.43 ERA in July, and 1-3 with a 5.23 ERA in August. In those final 11 games, he pitched more than six innings in just two of his starts, and allowed three runs or more in eight of them.
With the season all but a lost cause, the Phillies decided to do the right thing and shut their young starter down to begin to get him ready for 2013.
2013 Outlook
I expect Worley to bounce back with a strong season next year.
Before his elbow problem began to take a toll on his effectiveness, Worley was pitching very well and it looked as though his 2011 season wasn't a one-year wonder.
While the 25-year old isn't an ace, I believe he's capable of being a quality third starter on any team, and he's capable of winning more than 10 games while keeping his ERA somewhere in the 3.50 range. It's going to be very important for him to meet those expectations. While the Phillies can count on Cole Hamels and Cliff Lee to give them excellent production, the same can't be said of Roy Halladay. With Halladay's health a serious question mark, it makes it even more important for Worley to bounce back and be a stabilizing force at the back end of the rotation.
As long as he's healthy, the Phillies should receive excellent production from their fourth starter. The team is very fortunate to have a young, affordable, dependable pitcher like Worley around to help keep their starting rotation a deep one.