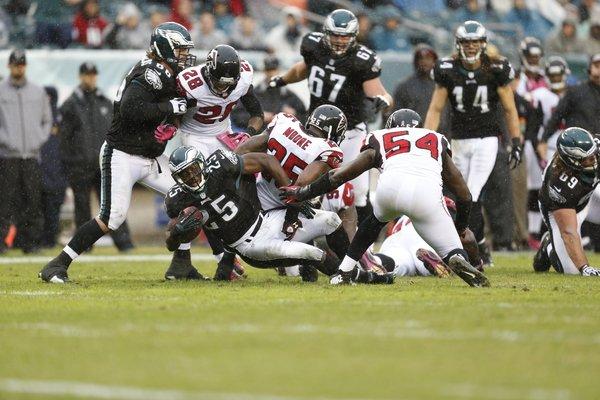 Looking back Andy Reid made a terrible mistake moving Juan Castillo from his offensive line position to become defensive coordinator.  The move weakened two areas of the football team.  Everybody talks about how he did a poor job as a defensive coordinator, but the truth of the matter is that Castillo is being missed most of all at his offensive line spot.
He was tireless in his work with journeymen backup offensive linemen.  We used to joke that Castillo would be putting his offensive linemen through drills in the airport when they go on a road trip or in the bathroom during their lunch break.  Castillo was passionate about working the backups so that they were ready when called upon.
The Eagles backup offensive linemen can't block for this team's passing attack and that has forced them to abandon their downfield passing game, which is Michael Vick's, DeSean Jackson's and Jeremy Maclin's strength.  If you limit them to throwing the ball short, they're not nearly as successful.  It's very simple, their offensive line as constructed and coached right now, can't block for a deep passing team.
The reason for that is two-fold.  Unlike Castillo, Mudd can't get these backups to do an adequate job protecting the quarterback or blocking for the run, and General Manager Howie Roseman can't acquire the kind of offensive linemen that Mudd can coach to do the job.
Mudd has shown that he is a very good offensive line coach as long as he has his type of guys playing there.  He did a great job with Jason Peters and Jason Kelce because they're good athletes and his type of offensive linemen.  They had put together some great running plays for LeSean McCoy and their athletic offensive linemen.   Peters and McCoy were doing things together that was amazing offensive and defensive coordinators around the league.   But he hasn't done a good job with the mediocre guys who Castillo worked with for years and used to go to five NFC Championship games and one Super Bowl.
Mudd doesn't have enough of his type of offensive line on this roster or he isn't flexible enough to make the necessary changes to coach them to do the job.  Bottomline, this offensive line isn't good enough.
Castillo would come up with some chicken salad regardless of whatever he was working with.  An offensive lineman didn't have to be a good athlete for Castillo to drill him and drill him and drill him, so that he would at least do a decent job, if they needed him to step in there.   Mudd on the other hand is one of these, it's my way or the highway guys and he can't get much out of these mediocre athletes, who play backup positions around the NFL.
Again, this points us to Roseman, who hasn't been able to get Mudd the type of backups which he needs.  You can blame this on Roseman for not getting the proper backups or Mudd for not being to coach them, or Andy Reid for putting them together.
The Eagles biggest problem is that the pieces in this jigsaw puzzle don't fit together.  This is a big play team with a big play quarterback and big play receivers, but this offensive line can't block for a team like that.  They're a short passing game offensive line.
The other problem with this offensive line is that they can't run block.  The Atlanta Falcons have one of the worst run stopping defenses in the league, but the Birds weren't able to run the ball against them.  LeSean McCoy wasn't even able to average three yards a carry.