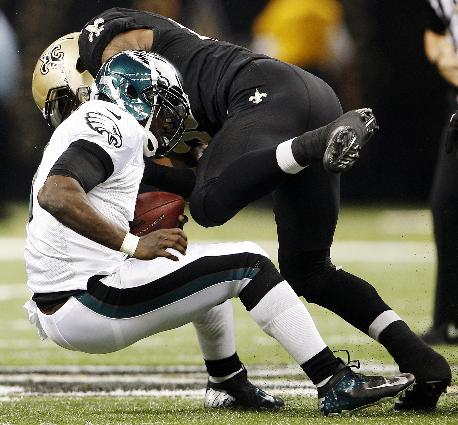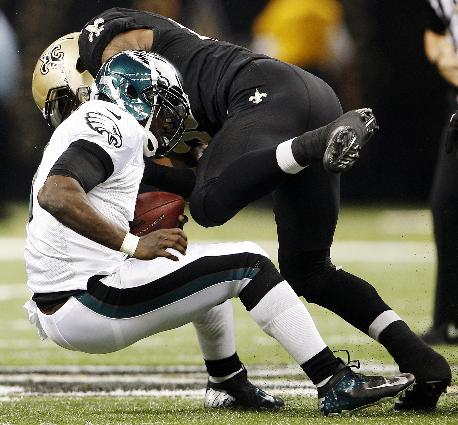 You would figure that Michael Vick has enough problems with the Birds having lost four straight games, but after the game he discovered there was another problem he needed to deal with that occurred off the field during the game.  It involved the Eagles quarterback's younger brother, Marcus.
Marcus has access to a Twitter account and he decided to make comments on it during the game. Marcus was helping his brother with his comments or maybe he hasn't been paying attention to the situation his brother is in up here in Philadelphia.
Last night the Eagles were losing their fourth game in a row and his brother has a quarterback rating near the bottom of the league.
During the game Michael's younger brother was attacking the Birds offensive line.  He tweeted the following.
"This is not even an NFL type of O-line," tweeted @MVFive. "[Bleeping bleepitty] line!!! I never seen [sic] a QB get pressured so fast. What happen to the hogs the Eagles had last year and year before? Call Winston Justice back and Jamaal [Jackson].
"Please trade my brother. We requesting out of Philly!!!! Please please please…"
 Here you've got Michael Vick's brother Marcus saying his brother wants to get traded from a team that's paying him nearly $20 million dollars a year.  As you might have expected, Michael wasn't thrilled about hearing the news that his brother had been asking for him to traded on Twitter.
"You said he Tweeted that during the game?" Vick said, clearly unaware of the stir his brother had caused. "I'm sorry. I'm unaware of that. That's something that I'm really going to have to address once I leave here. We're out there fighting as hard as we can, giving it everything we've got, and that's certainly not the case here. I love each and every guy in that locker room. If I could make every play right, I would. I know they would do the same, so that's certainly not the case."