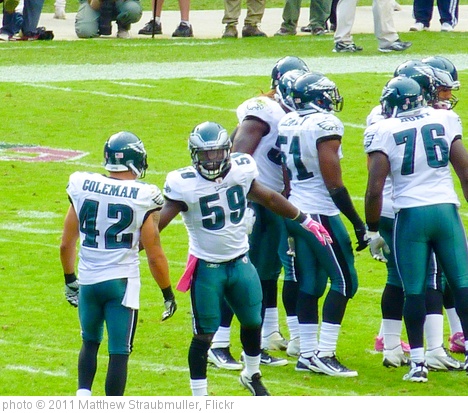 Good football leadership is direct and honest even when it has to be a bit cruel.  You don't have enough time in a NFL season to be nice to players and coaches, and ignore their short comings.  If there's a problem, it must be quickly identified then dealt with or it can ruin a season or a career.
I'm starting to think that maybe Andy Reid's son dying at the beginning of the season may have hindered him in getting in the face of under-performing players and demanding that they improve their games.
They haven't had any players who have taken the horse by the reins and demanded that the concentration and focus on everybody doing their jobs improve.
Reid and the Eagles leadership has been too nice.  They don't have a guy on the team like Jeremiah Trotter or Hugh Douglas who would threaten to do bodily harm to a teammate.  They don't have a player on the team like Brian Dawkins who would get up in the front of the team and express the mentality that everybody should have.
I just left middle linebacker DeMeco Ryans locker after hearing him say he did not think it was necessary to have somebody get in the face of the team's defensive players and let them know that they're playing like garbage and must play better.  I know the air is already out of the balloon, but somebody still needs to let these guys know how bad they're playing.
Ryans talked about how he's examining his own game and I will give him credit for that, he's been their most consistent defensive player, but I can't give him a thumbs up for his leadership.  He should have gone off on his teammates earlier in the season.
How many times are we going to see safety Nate Allen bite off run fakes in the backfield?  I don't even play for the team, but I've felt like grabbing him and chewing him out.
I saw Eagles cornerback Nmandi Asomugha turn a wide receiver loose to Allen in the Washington game, but see that Allen had bitten on the run fake.  Instead of trying to run the receiver down, which would have made it look like Asomugha was the one getting beaten, the veteran cornerback started jogging and motioning Allen to pick up the receiver.
Asomugha could see that Allen had bitten on the run fake.  He could have tried to run as hard as possible to knock the ball down, but instead he jogged and motioned so everybody would know it wasn't his fault.
When you have veteran players taking this approach, you don't have good leadership on the football team.
Eagles backup defensive end Phillip Hunt was unblockable during the preseason, so I don't understand why he wasn't given more of a shot to play with both starting defensive ends struggling this season.   Thirteen plays is the most he's played in a single game this season.
Rookie second-round pick, defensive end Vinny Curry will get the chance to suit up for the first time this season.