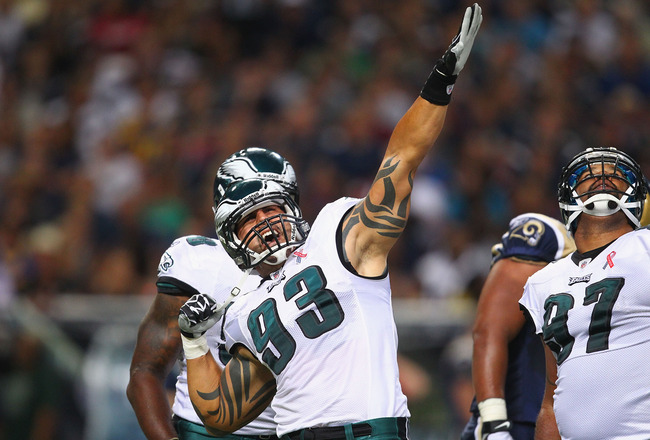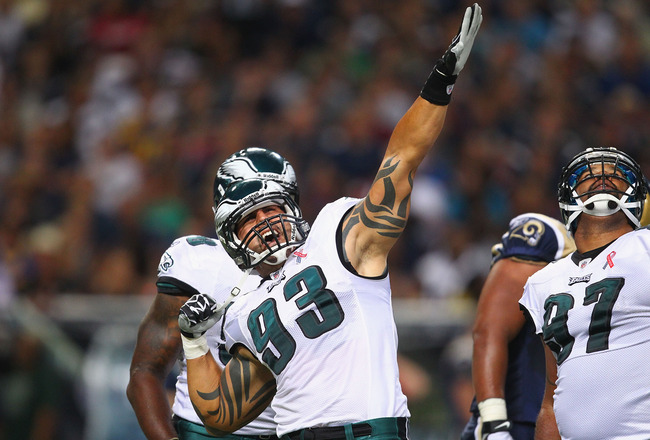 In a stunning move on Tuesday afternoon, the Philadelphia Eagles released defensive end Jason Babin.
With the season now a lost cause at 3-8, the Eagles have decided to begin shedding some of the dead wood and bad personalities on the roster and Babin, a man who just a night ago tried to promote and sell his own t-shirts before the game, is the first to go.
Babin was in the second year of a big five-year contract. He was brought in a year ago to help the defense flourish in their new Wide-Nine defensive scheme. While the defensive end put up 18 sacks a year ago, his total had dropped to just 5.5 this season.
Babin ultimately was a selfish player that was only concerned about his own statistics. It says a lot about how poor an influence he was on the locker room that the team decided to release him at this point in the year. Although he had been having a down year, he was still among the team leaders in sacks. After seeing Vinny Curry (why wasn't he active before Week 11?) play so well, the Eagles decided to cut ties with the former Titan to help open up snaps for their second-round pick.
The move is also a strong indication that defensive line coach Jim Washburn and the Wide-Nine aren't long for Philadelphia either.