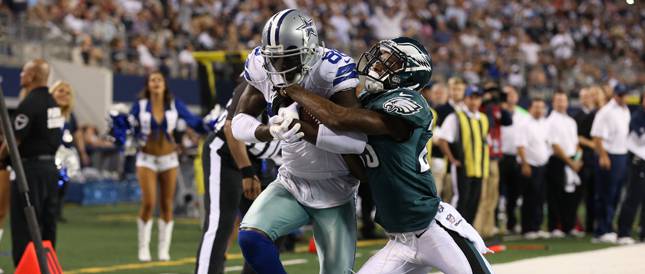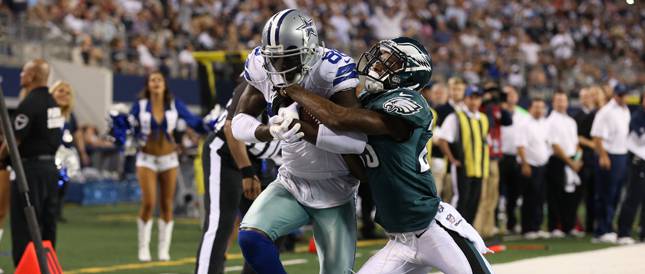 Disgraceful Defensive Backs
Nothing I could write could appropriately describe just how awful this Eagles defense is, but the secondary is just the worst I've ever seen.
The Dallas Cowboys moved the ball at will on the Eagles, by land and by air. Tony Romo played what might have been his best game of the season, completing 22 of 27 passes for 303 yards and three touchdowns.
The secondary was torched once again, and had no answers for the likes of Dez Bryant, Jason Witten, and Miles Austin. Its inconceivable to think that a defensive backfield featuring two former Pro-Bowlers, and a recent second-round pick could be this inept. Neither Nnamdi Asomugha, Dominique Rodgers-Cromartie, or Nate Allen should be back with this team next season.
Asomugha has been a complete bust since he signed with the Eagles a year ago. All he's done is turn is receivers loose and point the finger at his teammates. Whether or not his teammates are responsible for breakdowns in coverage, it says a lot about Asomugha's mentality that he's unwilling to stand up and point the finger at himself. There's a belief that you should never go after the best player on a bad team; they say that losing follows certain players and the one thing Asomugha has done since arriving in Philadelphia is carry over the losing attitude of the Oakland Raiders.
Rodgers-Cromartie started off the year playing like a Pro-Bowler, but he hasn't made a play since September. We can see now why the Arizona Cardinals were willing to part with DRC in the Kevin Kolb trade a year ago; as talented as the former first-round pick is, he just can't be counted on to sustain it. He looked absolutely pathetic attempting to tackle Dez Bryant on his fourth quarter touchdown, and got picked on by Romo and the Dallas offense most of the night.
We knew Nate Allen couldn't tackle anyone, but wasn't he at least supposed to be a good cover safety? Jason Witten hauled in six passes for 108 yards, and Allen was often found at the scene of the crime. He played well at the beginning of the year, but now he looks like a complete liability. Its pretty clear that the 2010 second-round pick is a bust.
These three players are an absolute embarrassment.
If the Eagles didn't field a secondary for the rest of the season, I don't think the defense would suffer any.
You'll Thank Bryce Brown In April
For the second straight week, rookie running back Bryce Brown had an otherwise strong performance tainted by a backbreaking fumble in the fourth quarter.
The biggest problem with Brown's game right now is that he's been terrible at protecting the football. His fumble tonight changed the outcome of the game, and gave the Cowboys a commanding 11-point lead with just under four minutes to go. I know a lot of Eagles fans would have loved to play the role of spoiler, and end the playoff hopes in Dallas, but Brown's fumble problem is once again a blessing in disguise, and serves the greater good.
We're at the point with this team where every loss is a victory. Every embarrassing defeat puts more pressure on Jeffrey Lurie to make dramatic changes. Every failure secures a higher draft position for the Eagles next April. At the rate the Eagles are going, they've got a great chance at a top-three pick. A win tonight would have made that difficult to accomplish. Four months from now, who would have remembered a meaningless win over Dallas?
Brown ran for 169 yards and scored two touchdowns. He ran hard throughout the night, and proved that his success against the Carolina Panthers was no fluke. He's given Eagles fans reason to be excited about the Philadelphia backfield next season. The Cowboys and Panthers had no answer for the rookie.
Foles Shows Improvement
Nick Foles enjoyed his best performance of the season in tonight's loss.
Foles finished the game completing 22 of 34 passes for 251 yards and a touchdown. He stayed strong in the face of pressure, and made much better decisions than he did in his first three games. He looked confident tonight, and did a good job managing the game and helping run an offense that put up a season-high 27 points without two of their top weapons, LeSean McCoy and DeSean Jackson.
Foles didn't show anything spectacular, but he looked like a respectable NFL quarterback tonight.
Quick Thoughts
Congratulations to Trent Cole, who successfully got involved on a sack tonight. Of course, he didn't sack Tony Romo by himself, he shared the sack with Brandon Graham. Cole now has two total sacks for the season.
Mychal Kendricks has hit the rookie wall in the worst way. I might consider just shutting him down for the rest of the season, he looks completely lost out there right now.
Nice game from Brandon Graham tonight. The disappointing first-round pick picked up 1.5 sacks in the his first start of the season. Its nice to see your top pick from 2010 crack the starting lineup three years later and have a decent game.
The offensive line did a pretty decent job tonight. Nick Foles was only sacked once, and they blocked well for Bryce Brown throughout the night.
Riley Cooper did a great job on his touchdown reception in the second half. Cooper had great concentration on the play, and made the catch through coverage. I like what I've seen from Cooper over the last few weeks.
Jason Avant had one of his better games this season, catching four passes for 79 yards.
How about Damaris Johnson's punt return for a touchdown late in the fourth quarter? Its about time the Eagles got some kind of positive contribution from the special teams.
Why in the world did we need to see constant shots of Tony Romo's girlfriend throughout the game? Honestly, she looked bored most of the time.
Final Thoughts
Only four more weeks of Andy.
Last week the Eagles made a move to shakeup the defense with the release of Jason Babin. This week I think they need to make one in the secondary. If former third-round pick Curtis Marsh isn't ready to see the field after nearly two years in the league, when will he be?
Nnamdi Asomugha, Dominique Rodgers-Cromartie, and Nate Allen are embarrassments, and I don't need to see them ever again.
Remember when this secondary had names like Brian Dawkins, Troy Vincent, Bobby Taylor, Sheldon Brown, and Lito Sheppard? Those were good days.
Heck, I'd settle for Asante Samuel right now. He's a much better tackler than anybody they have right now, and that's saying something.
Denny Basens is the editor of GCobb.com. Email him at dbasens@ycp.edu, or follow him on Twitter.