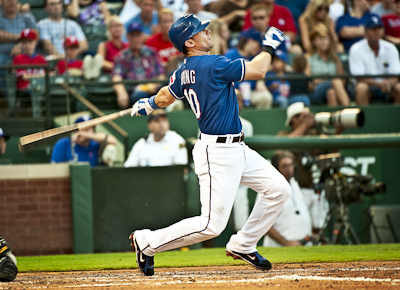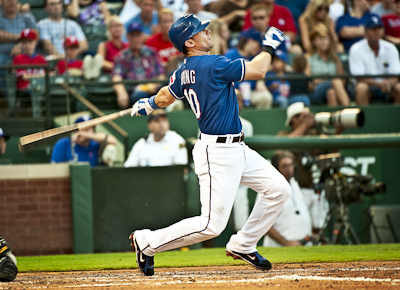 Early this morning, Eve Grant of the Dallas Morning News reported that the Philadelphia Phillies and Texas Rangers are in "advanced talks" about a deal that would sent veteran third baseman Michael Young to Philadelphia in exchange for a young, major-league ready reliever.Texas would also cover more than half of Young's $16 million for the coming season.
If a trade for Young does come together as Grant described it, it's a nice deal for the Phillies. Young is 36-years old, and on the downside of his career, but he's better than what the team's current options at third base (Freddy Galvis and Kevin Frandsen). In an offseason where few options are available to upgrade third base, the Phillies would pick up a serviceable veteran that helped Texas go on a couple of deep playoff runs in the last couple of years, and they would also add a righthanded bat into their batting order.
The biggest concern with Young is his age. At 36, he's at the point in his career where his numbers aren't likely to improve much, and his body may not be far from breaking down. The Phillies' previous third baseman, Placido Polanco, started to breakdown at age 34 when the Phils acquired him, and he was completely cooked last season when he turned 36.
Young posted decent numbers last season, hitting .277 with eight home runs and 67 RBI's, but those statistics were a sharp decline from his 2011 season when he enjoyed a great season hitting .338 with 11 homers and 106 RBI's.
To acquire Young, the Phillies would need to part with Justin De Fratus, Josh Lindblom, Michael Schwimer, or Jake Diekman. The Rangers are searching for a young reliever ready to pitch in the major leagues, and these are the guys who fit that description that would be most likely to be involved in the trade.