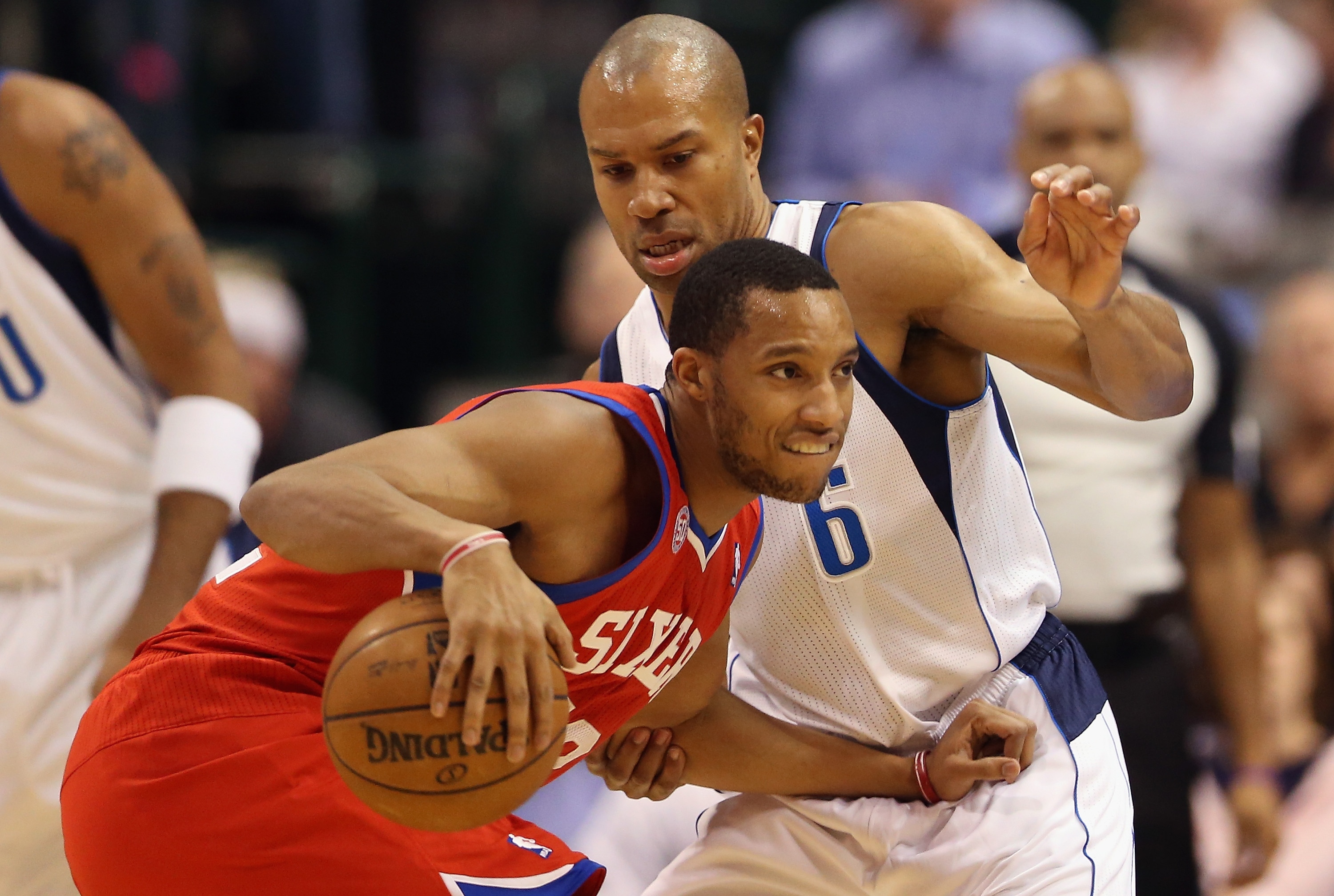 The Philadelphia 76ers lost their fourth straight game on Tuesday night, falling to the Dallas Mavericks 107-100. The Sixers record is now below .500 at 12-13.
You have to give Evan Turner a lot of credit right now. The Sixers are asking him to put the team on his shoulders with Jrue Holiday out, and I think he's responded to the challenge extremely well. Turner is running the offense, hitting big shots, shooting the three well, and working hard on the defensive end. The third-year player is playing with a great deal of confidence right now, and he's the glue that's keeping this battered team together.
Turner's supporting cast was an issue once again.  Too many important figures just didn't do enough tonight, and it helped cost the Sixers the game.
Spencer Hawes played well,  scoring 16 points and pulling down seven rebounds. He gave one of his better defensive efforts, and didn't allow the Mavericks to have their way in the paint. Hawes is a very up-and-down player, and right now his arrow is currently pointing up.
After dropping 30 points against the Lakers, Nick Young came back down to Earth tonight. Young scored just eight points, and was barely on the court during the second half.
Jason Richardson knocked down just one three in this game, but played one of his better games in the last few weeks. J-Rich scored just eight points, but was active in other areas, collecting six rebounds, four assists, and two steals. That being said, a shooter as skilled as Richardson should not be going 1-7 from beyond in a situation where his team desperately needs his offense.
Doug Collins tried both Royal Ivey and Malik Wayns in hopes of giving Turner a rest, but neither was able to provide a spark. Ivey played just over three minutes, and Wayns was only able to connect on one field goal in a 16 minute run.
Dorell Wright scored 25 off of the bench tonight. He hit a pair of threes late in the game that helped bring the team to within six points of Dallas.
Interesting that Lavoy Allen got just over five minutes of run tonight. Chris Kaman and Shawn Marion were pushing around Kwame Brown with ease, I'm surprised Doug Collins didn't try to change things up and give Allen a little more of an opportunity.
Bottom Line
Another difficult loss for the Sixers. They fought hard through three quarters, but just couldn't run with the Mavericks for a full 48 minutes.
The Dallas Mavericks aren't a pushover by any means, but they're missing their star in Dirk Nowitzki, and also were without Elton Brand and Derek Fisher in this game, yet they're a team that knows how to overcome their injuries. The difference between the two teams is depth.
Without Nowitzki, Brand, and Fisher, the Mavericks had guys Chris Kaman, Shawn Marion, O.J. Mayo, and Brandan Wright step up to help them pull out a win tonight. The Sixers just don't have the same luxury in terms of depth that a team like Dallas has. Until Jrue Holiday is able to return, this team will continue to struggle to find ways to win games.