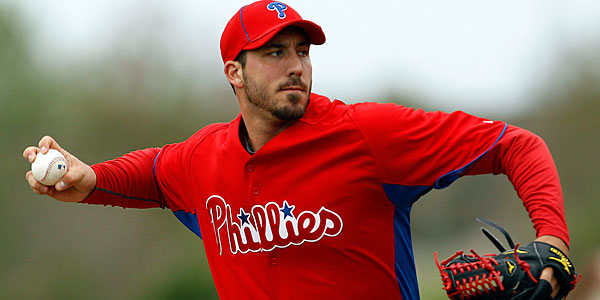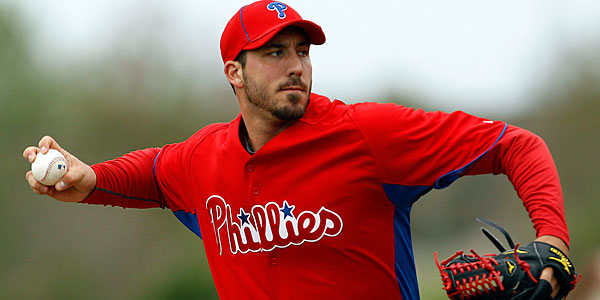 2012 Expectations
Aumont didn't figure into the Phillies' plans before the start of the 2012 season. The centerpiece of the 2009 Cliff Lee trade needed another year of seasoning in the minor leagues before the Phillies would seriously consider bringing him up.
2012 Performance
Once the Phillies held their firesale at the trade deadline, the team began to give opportunities to young players in the organization. Aumont was one of the minor-leaguers that received a call-up.
The righthander made his debut on August 23rd, tossing a scorless inning against the Cincinnati Reds. In a weak bullpen, Aumont quickly emerged as the team's best eighth inning option. When the team made their last-gasp run at the playoffs during the final month of the season, the 23-year old was the guy that Charlie Manuel felt most confident about handing the ball to.
Aumont performed well in the setup role, overpowering hitters with his fastball and confusing them with the great movement of his breaking pitches. He finished the regular season with an 0-1 record with a 3.28 ERA in 14.2 innings. He also recorded two saves, and didn't allow a home run.
2013 Outlook
Aumont is a very interesting young arm to watch in the Phillies bullpen. The Phils have waited three years for the prospect to make an impact, and this could be the year he does so.
The rookie showed good promise during his limited action at the end of the season, pitching well in some big moments for the team.
Aumont has a chance to be a key figure in the bullpen next season. If he can build on the success he had in 2012, the Phillies could have themselves a potential answer for their eighth inning woes. Newly signed veteran Mike Adams will likely begin the year in the role, but Aumont could earn his share of opportunities late in the game if he performs well enough.
The sky is the limit for Aumont. Best case scenario, the talented pitcher fulfills his potential, and emerges as a workhorse reliever that the team can confidently turn to in the seventh and eighth innings, and could even occasionally spell Jonathan Papelbon as the team's closer.