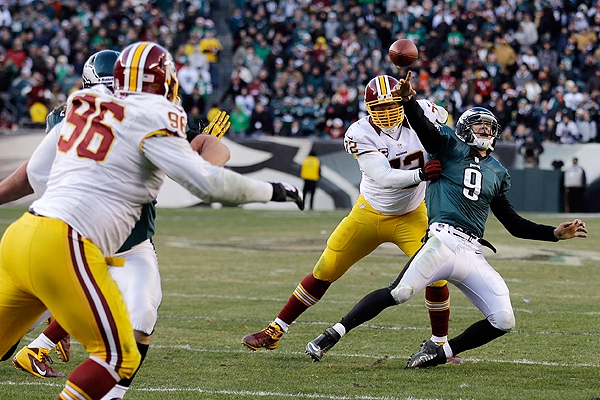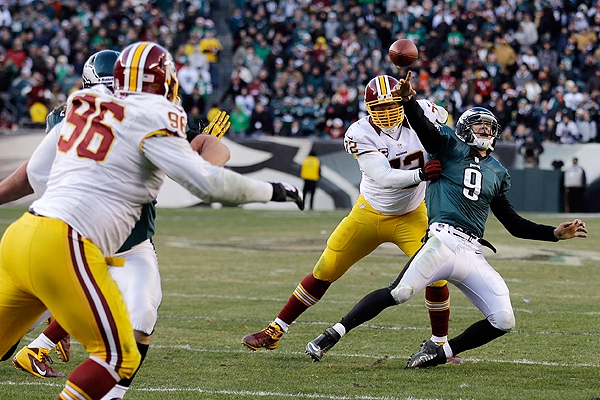 Reid's Last Home Game
The Eagles haven't shown a lot of heart this year, but they came out and played hard for their head coach in what is very likely to be Andy Reid's final home game as the head coach of Philadelphia.
The Eagles fought back from a 14-point deficit to make it a seven-point game and had an opportunity to tie the game in the final seconds. But the disappointing team that Michael Vick believed was going to be the start of a dynasty (HA) just didn't have enough gas in the tank to finish the job.
The familiar problems that have plagued the team all season resurfaced in their typical fashions today.
This team just won't stop turning the ball over. Nick Foles had an interception off of a tipped ball and also lost a fumble. If the Eagles would learn just to cut down on their mistakes, they might be capable of winning seven or eight games.
The defense had their bright moments, but ultimately couldn't come together and find answers for Robert Griffin, Alfred Morris, and the rest of the Washington offense. Even on a day where RGIII wasn't at 100%, he was still able to guide his team on five scoring drives against the Eagles.
It looked as though the game could have taken a turn similar to the Cincinnati game in which the Eagles just completely collapsed in the fourth quarter and a close game quickly became a blowout. But this week, Reid's team fought to the final minutes, and got on the comeback trail similar to the one they went on in Tampa Bay. They even got down to goalline in the final moments, but this time there wouldn't be a victory on a last-second touchdown.
Quick Thoughts
Nice play by Colt Anderson to break up a pass on fourth down during the first quarter. Anderson turned in another nice performance as a starter. He may never be an All-Star caliber player, but he's a guy you want on your roster. It was great to see Anderson get an interception in the fourth quarter.
Evan Moore, signed off of the streets this week, nearly made a nice play for a touchdown in the second quarter. However, the tight end couldn't keep his feet in bounds, and the Eagles had to settle for a field goal. Moore dropped a potential game-tying touchdown on the goalline later in the game.
Nick Foles put up 345 yards with a touchdown and an interception. I thought Foles showed signs of progress in this game. Although he wasn't perfect, and made a handful of mistakes, the rookie got his second look at the Washington Redskins and performed much better against them in this game than he did a month ago. The fact that he helped guide the team on a nearly-successful comeback effort for the second time in three games is also impressive.
Foles seems to have developed a lot of trust in Jeremy Maclin. Maclin caught eight passes for 116 yards and a touchdown. He's had his best games with Foles under center.
Another guy who has benefited from working with Foles is Jason Avant. Avant has reemerged as a reliable weapon in the offense ever since the third round pick took over as the starter, and had eight catches for 70 yards today.
Darryl Tapp was inactive for today's game. About time. I don't understand why the coaching staff kept him active over young guys like Vinny Curry and Phillip Hunt, especially after the playoffs were well out of reach.
Ugly start to the third quarter, the Eagles let the Redskins march right down the field and allowed running back Alfred Morris to go untouched into the endzone.
LeSean McCoy looked pretty good today, but he has no business playing in either of these final regular season games. The last thing this team needs is for their franchise running back to suffer any kind of damaging injury that will impact his status for next year.
McCoy was active as both a runner and a receiver, collecting 122 total yards.
Dion Lewis had a nice touchdown run in the fourth quarter to make it a one score game. Lewis showed the impressive explosive burst that helped him make the team a year ago.
The return of McCoy meant Bryce Brown saw his workload decrease significantly.
Foles had Jeremy Maclin open for the touchdown on the final drive, but threw a poor pass and couldn't get him the ball.
Final Thoughts
The Eagles currently sit at 4-11, and are on the verge of securing the third overall pick in next year's draft. One game remains against what will be a desperate New York Giants team.
In the final week of the season, we'll get a final look at Nick Foles. Has the rookie done enough to be named the starting quarterback in 2013?
Are there any other young players on the defense that will step up and be noticed? Colt Anderson certainly did that in this game, are any of his teammates capable of putting on a similar show?
We're almost at the finish line, folks. One more week of the Andy Reid era.