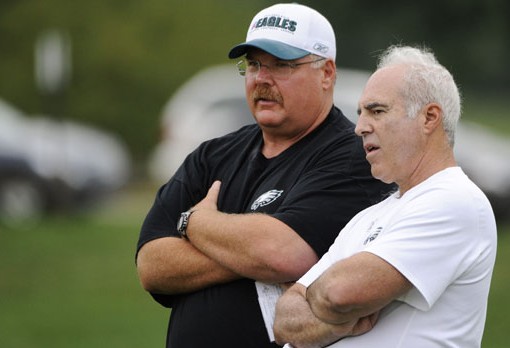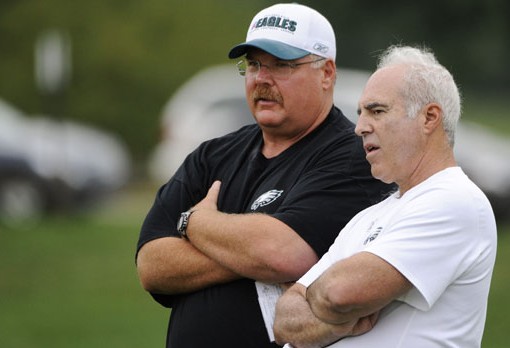 It's official.  Jeffrey Lurie has fired Andy Reid and he's have a news conference at 12 noon today.  Lurie is expected be there, but it's not clear whether Reid will be there.
Lurie probably informed Reid that he would be fired today, but agreed not to release that information to the media prior to this morning.   That way Reid was able to deny it yesterday, but his agent was able to officially get on the phone on Friday and start looking for another job.
I learned from a source close to former Pittsburgh Steelers, Super Bowl winning head coach Bill Cowher, that he has talked to Lurie in the last week.  I don't know if Lurie was inquiring about his interest in the head coaching job or consulting with him about who he should hire.
You know Chip Kelly is the number one target.  There have been reports about him wanting to have complete control over personnel, which I don't see happening here in Philadelphia.
I don't like the idea of bringing in a guy with no NFL experience.  His offense will be contended in many additional ways in the NFL as compared to college.  In college ball defenses back away from explosive offenses, but in the NFL defenses attack them and challenge them.
Giving the job to somebody, who has no NFL experience, is too much of a chance, in my opinion.  I surely wouldn't give him control of the personnel.
Bill O'Brien of Penn State is on the Eagles short list.  He's an impressive young coach, who showed us a year ago that he has outstanding leadership skills and a great offensive mind.  Should he be considering leaving the school only a year after talking all of those players into making a commitment to stay there?  The Birds will have to put up $9 million dollar to get him out of his contract.  I think he's need to stay put in order to maintain his reputation as a man of his word.
Bruce Arians of the Indianapolis Colts has to be on the list.  As an interim head coach, Arians led the Colts to an 11-win season and the playoffs.
I would like to see the Eagles hire a successful NFL assistant coach.  One of the most important tasks for a new coach is putting a staff.  A quality NFL assistant coach knows who the other good quality NFL assistant coaches are.
Here are some of the other names who could be on the Eagles list:
Stanford head coach, David Shaw – Coaches a physical style of football and has NFL experience.
Seattle Seahawks offensive coordinator, Darrell Bevell – coaches a physical version of the west coast offense
San Francisco 49ers offensive coordinator,  Greg Roman – coaches a physical style of ball and has been able to adapt his offense to different quarterbacks
San Francisco 49ers defensive coordinator, Vic Fangio – coaches a physical style of defensive football
Houston Texans offensive coordinator, Rick Dennison – proponent of the zone blocking scheme