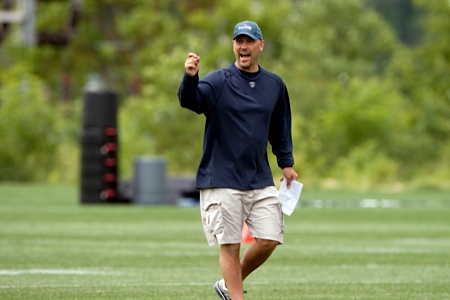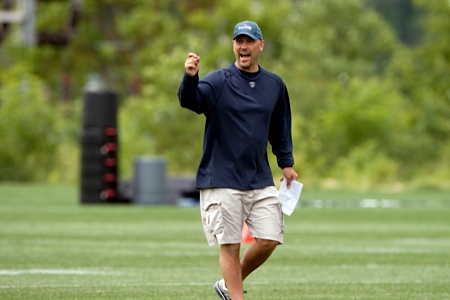 If you look at the Superbowl Championship coaches over the last 45 years, history says you better have a brilliant, innovative offensive mind. But not so fast, because that statement would be inaccurate.
Many columnists, fans, and even our beloved Eagles Front Office feel that if we don't get an offensive coach, the Philadelphia Eagles will not succeed because there will be no one to groom our latest quarterback prodigy, Nick Foles.
Now, there is some truth to that theory; because you do need a viable quarterback option to take the lead in the huddle, and on the field.
But in order to be a Viable "Championship Team", what you really need, is an innovator, and flat out leader on the sideline.
But does that mean that you're not a leader if you are not an offensive mastermind? Some may respond, "Well look at the Superbowl Champion Coaches the last few years, and throughout its history!!".
Have you really looked at it?
Because, history actually dictates the opposite. Which is why Gus Bradley, the fiery defensive coordinator, of the Seattle Seahawks should be heavily given consideration as our next head coach of the Philadelphia Eagles.
Did you know that of the 25 Superbowl Championship coaches, only nine of them have a purely offensive back ground? The other infamous 17, were groomed on the defensive side of the ball.
Hank Stram, is the only Coach to win a Superbowl without the assistance of an offensive, defensive, or Special Teams coach; he WAS the head coach, but he did have a defensive mindset. There are others similarly groomed as defensive assistants that went on to win Superbowls:
1.

Bill Walsh
– Well known for his offensive genius, namely the West Coast Offense. But, Walsh was groomed as an assistant during the early AFL days, on both the offensive, and defensive game plan, before he became offensive coordinator of the San Diego Chargers.
2.

Bill Parcells
– His roots started on the defensive side of the ball, as linebackers coach, and defensive coordinator before he became head coach of the Giants.
3. Bill Belichek – Defensive coordinator of the Giants before he was hired as head coach at Cleveland and New England.
4.

Jimmy Johnson
– Defensive coordinator at Arkansas and Pittsburgh University, (1973-1978), before he got his head coaching Position at Miami University, and the Dallas Cowboys
5. Bill Cowher – Defensive coordinator for the Kansas City Chiefs before he was hired as the Head Coach of the Pittsburgh Steelers.
The list goes on with names like: Don Shula, John Madden, George Seifert, Mike Tomlin, Tom Landry, Chuck Noll, and Tony Dungy. Many of these names have won multiple Superbowls!
Do you think that Jeff Fisher would make a good Head Coach for the Eagles if he were available? He didn't win, but, he did make it to the Superbowl, as many times as Andy Reid has in his career. So whats the point?
Gus Bradley's defense has steamrolled some of the most brilliant offensive minds this year in New England, San Francisco, Chicago, New York Giants, Green Bay, Washington, and Atlanta is next. The man has to be innovative!!
But they're all being considered for Head Coaching positions in the NFL. Yet, he isn't as highly regarded as even some of them.
In order to be a successful defensive team, don't you also have to be just as innovative as the Head Coach on the other side of the field?
So, would it be reasonable to conclude, that, that defensive coordinator, Gus Bradley, would have the pedigree, the innovation, the drive, the leadership, and ability, to lead the Philadelphia Eagles to a Superbowl Championship?
Well, who is going to groom Foles?
If we are able to combine, and complement his style, and demeanor with similar offensive minds such as Ben McAdoo, Brad Seely, Joe Lombardi, – Who are all future head coaches in their own right-, and should be titled as Assistant Head Coaches with the Eagles THEY can groom Foles, as Bradley takes control, and revives this soft, heartless Eagles Team. Being the same leader as Parcells, Belichek, Johnson, Madden, Landry, Noll and Cowher were.
GMCliff wants everyone to get on the Gus Bus, as it heads to Philadelphia soon for his interview…and I'll start the Chant…WE WANT GUS!!, WE WANT GUS!!, WE WANT GUS!!, WE WANT GUS!!, WE WANT GUS!!, WE WANT GUS!!