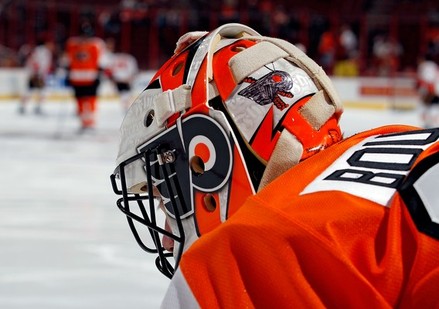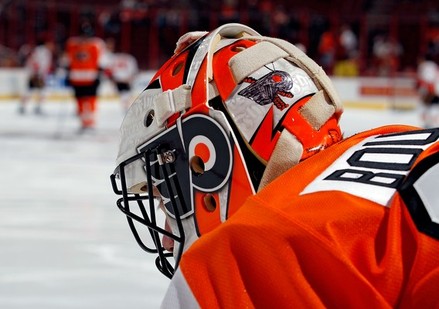 Former Philadelphia Flyers goaltender Brian Boucher had been practicing in Voorhees recently while the NHL lockout slowly came to an end. He was set to re-join the Carolina Hurricanes on the second year of his contract, but apparently he's not going anywhere.
According toTSN's Bob McKenzie, the Flyers have traded prospect Luke Pither to Carolina for "Boosh" and draft pick Mark Alt.
Pither had fallen out of favor with the Flyers earlier this season, to the point where they loaned him from the Trenton Titans, their ECHL affiliate, to the Wheeling Nailers, the ECHL affiliate of the Pittsburgh Penguins.  They wanted nothing to do with him.
Bringing Boosh back doesn't make a whole lot of sense unless there is something that the public at large doesn't know about the health of Michael Leighton and Ilya Bryzgalov.  The organization doesn't have any room at the AHL level for Boosh or Leighton either.
One possibility is that the Flyers could be considering the same plans that the New York Rangers and Montreal Canadiens have for Wade Redden and Scott Gomez, respectively.  Both of those players will not be playing this season so as to ensure they don't get hurt, which would prevent them from being bought out. Perhaps Bryzgalov will be riding the pine shortly.
In his first year with the 'Canes, Boosh was not up to par as a back-up. He finished the season with a 1-6-1 record, a 3.40 goals-against-average, and a 0.880 save percentage.  Hopefully, the familiarity of playing in Philly will help him bounce back.
Josh Rimer quoted Boucher following the trade: "Yes, I'm happy to be back in Philly. It's a place I'm familiar with and hopefully I can help in any way possible."
As for the last part of the trade, Mark Alt is a 6'-3″, 194 lb. right shooting defenseman at the University of Minnesota.  A former 2nd round draft pick of the Hurricanes, Alt followed up an average freshman season with 5 goals and 22 points in 43 games.  This season, he has seen a significant drop off in points, tallying just 3 assists in 21 games.
For the latest Flyers news and updates, you can follow me on twitter (@JoshJanet).