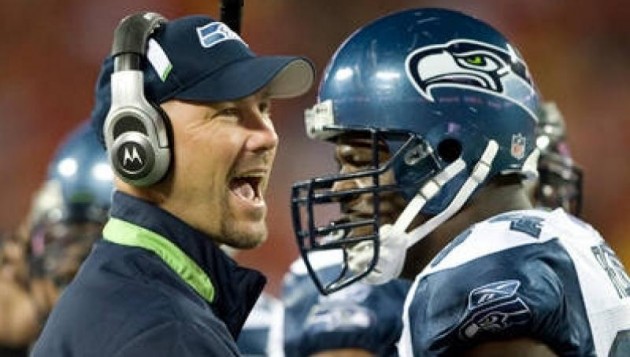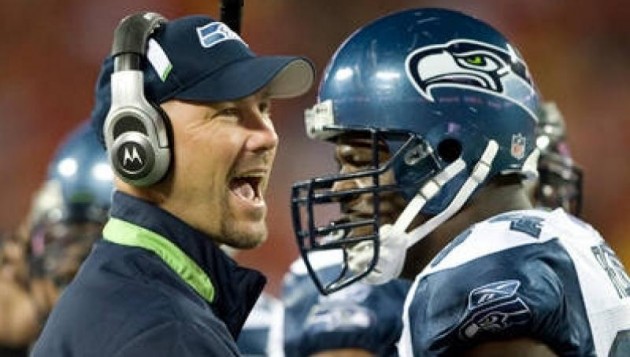 The Eagles have confirmed that they're interviewing Seattle Seahawks defensive coordinator, Gus Bradley, for the second time tomorrow, Tuesday, January 15th.   They interviewed him on Saturday in Atlanta prior to the Seahawks playoff game against the Falcons.
There have been numerous reports about Bradley being the leading candidate to get the Birds head coaching job and this second interview seems to confirm it.
Bradley is regarded as a player's coach, who is also an outstanding communicator.  He's gotten rave reviews from Seahawks head coach Pete Carroll, who says he's the best teacher he's ever been around.  Carroll says Bradley reaches his players with his gift of gab, plus he's very positive.
Clearly one of the biggest problems on the Eagles squad a year ago was that they didn't play with passion, especially on the defensive side of the ball.  Philadelphia had been known as a place where defensive players, like Brian Dawkins, Jeremiah Trotter and Hugh Douglas lined up and hit you in your mouth.  Before that Reggie White, Clyde Simmons, Seth Joyner, Eric Allen and etc. did the same thing.
This past year was an embarrassment to the Eagles organization and the city of Philadelphia to have players like Nmandi Asomugha and Dominique Rodgers-Cromartie letting Dallas Cowboys wide receiver Miles Austin run by them on his way to the end zone and all they did was tag him like they were playing two-hand touch.
That's not Eagles football and that's not the way people in Philadelphia like to see their team play.  From what I understand Bradley impressed Jeffrey Lurie and Howie Roseman with his ability to inspire and connect with his players to get them to lay it on the line like Eagles fans are used to seeing.
I like what I've heard about the defensive system which he employs.  Bradley plays both the 4-3 and the 3-4 alignments.  Sometimes he will have a defensive end or linebacker get down in a three-point stance or stand-up into a two-point stance to keep the offense guessing.  He likes using defensive ends who can play both defensive end and linebacker, so they can run multiple looks.  I like that idea and I gather the Eagles must have liked it as well.
It seems that all signs are pointing to him being signed in the next couple of days.
It would make sense for the Birds to finish this search before next week's Senior Bowl, so that the new Eagles head coach can go to Mobile, Alabama and put together his staff.  Available assistant coaches tend to congregate at Senior Bowl in search of a job.
The Senior Bowl is also very important when it comes to assessing the talent in the upcoming NFL Draft.   Nearly all of the top talent will be in Mobile, so coaches and scouts are able to see them in action against other top players.
Of course it's more important to get the right guy at the head job, but if Bradley's going to be the guy, it makes sense to get it done now.
By the way, I'll making the trip to Mobile this year and I will be making reports on what's happening down there since it's going to be such a big year for the Birds down there.