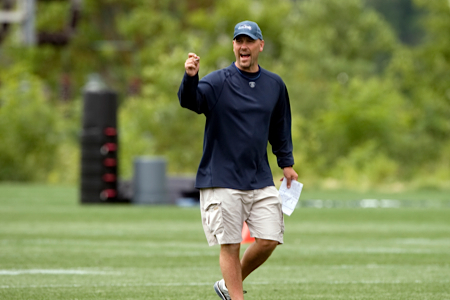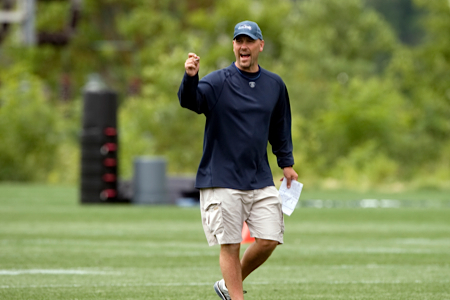 Eagles fans across the country got great news when the Eagles account confirmed Monday night that they would be interviewing Seahawks Defensive Coordinator Gus Bradley for a second time today. Jay Glazer of Fox Sports was the first to report the news.
The time of the interview isn't known, but the interview will take place in Philadelphia. John Clark of NBC10 reported that Jeffrey Lurie even flew a plane out to Seattle for Bradley. Such a bold move may suggest that Bradley is Lurie's guy.  Time will tell, but I personally would be ecstatic and excited by the move.
At the start of this coaching search, it was widely assumed that the Eagles would lean toward an offensive minded coach. This is a huge mistake. Call me old school, but after the pass-happy 14 years of Andy Reid, I would prefer a coach who likes to pound the rock and play tough, physical defense. Bradley is that guy.
An offense crafted around the lateral quickness of LeSean McCoy and the downhill running style of Bryce Brown would be perfect. Both complement each other's styles perfectly, and would allow the Eagles to physically drain teams by the 4th Quarter, just like Bradley's Seahawks have done in 2012.
The Seahawks are a team that the Eagles should look to mold their roster into. Led by a tough defense, physical run game, and rookie QB, the Seahawks won six straight games before losing to the Atlanta Falcons in the Divisional round on Sunday. Bradley would bring a physical style of play to Philadelphia that hasn't been seen since the Buddy Ryan days. He has molded the Seahawks defense into arguably the NFL's best. The Seahawks were 4th in the NFL in yards allowed per game (306.2) in 2012, but were first in the NFL in scoring defense (15.3).
Bradley has taken players like Alan Branch and Chris Clemons, who have struggled in previous NFL stops, and turned them into productive players. He's turned Clemons into a player who could only manage at most four sacks a year with the Eagles, into a starter who has amassed at least 11 sacks per year in his three years as a Seahawk. It's a necessity for a coach to get the most out of his talent. Bradley has done that and more in developing young players and turning them into contributing starters. Bobby Wagner, Richard Sherman, Brandon Browner, and (gulp) Earl Thomas are examples of this.
Not to mention that Bradley is a passionate, emotional guy that has no problem getting into players faces and challenging them. A different tune that we are used to after 14 years of Andy Reid.  That being said, Bradley's players love him, and would do anything for him. He is the perfect mix of a coach.
Gus Bradley is exactly what this team needs, a defensive-minded coach that can completely overhaul an Eagles defense that needs a philosophical change. The Eagles offense has potential and talent coming back, and with the right approach could score a lot of points. The Eagles defense has talent, but no will whatsoever. Gus Bradley will return that will, and return a brand of smash mouth football that this city craves.
(All Stats from NFL.com)