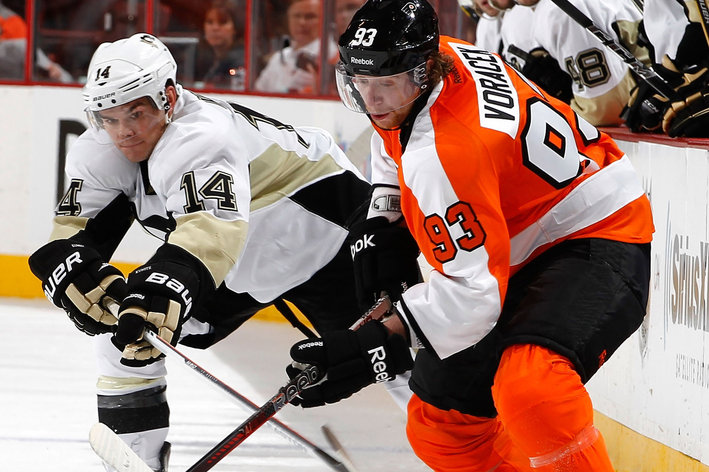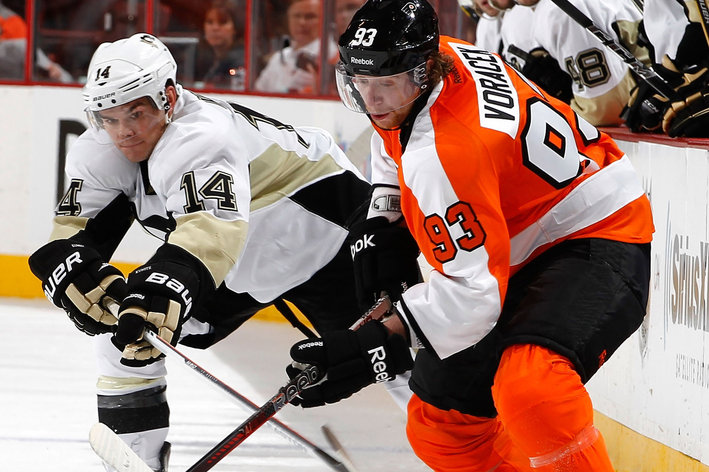 No one expected the first game for the Philadelphia Flyers in 256 days to go "smoothly."
There were positive flourishes that caught everyone's attention as much as there were rough patches of ugly, ugly hockey. In the end, the team couldn't hit the ground running (or skating, if that analogy works better) and finished the day with a 3-1 loss to the rival Pittsburgh Penguins.
You can't argue that the team didn't show up to play when the puck dropped, but the energy wasn't focused nor the communication clear.
Tyler Kennedy was credited with the first goal of the game- a re-direction of a shot from the point by defenseman Paul Martin during a power play. The puck may have hit defenseman Luke Schenn first, but there's not much to really argue about there. It's the type of goal that haunted Ilya Bryzgalov last season and hopefully this will be the last of it's kind.
James Neal padded the lead less than three minutes later, scoring right after the face-off draw. Bryzgalov didn't look prepared for the shot.
"It was tough. You get down 2-0 and the shots aren't in your favor," said head coach Peter Laviolette in the post-game presser. "That first goal is a tough one, just a redirect kind of a fluke, but we've got to have better execution on that face off goal."
The line combinations that began the game will probably be in place for tomorrow's game in Buffalo, but there's no reason to believe these will remain intact indefinitely. Some players had stronger games than others, as the quality of passing between players and puck control in the neutral zone were spotty at best.
"There seemed to be a little bit of rust out there," said Laviolette. "Our passing was a touch off. We had a lot of passes that seemed to go into skates and breakouts in netural zone movement. I think that will come with time, but there's definitely room for improvement as far as that goes."
Brayden Schenn had a quiet game with Claude Giroux and Scott Hartnell, who were in a world of their own out there. Giroux tapped in a bouncing pass from Hartnell early in the second period to cut the deficit in half.
Giroux nearly collected a breakaway pass at the 9:04 mark of the third period, but just missed being on-sides.
Wayne Simmonds and Matt Read were arguably the best forwards out there, with Read finishing with an unusually high six hits on the scoresheet. Rookie Scott Laughton played decently on their line in his NHL debut, but I can't help but feel he weakened the line's offensive chances.
That's not to say he doesn't deserve to be on the team- simply that there is still a lot for the 18 year-old to learn at this level and that a more established player would be better suited for providing offense on the upper lines. Laughton also had difficulty with being muscled off the puck.
"I thought he played a strong game for us," said Laviolette. "He was responsible defensively, he had four or five good hits, he was strong in the puck battles and had a couple opportunities at the net. I thought he did a nice job. It's a tough situation to come into for a young kid. First game, in Philadelphia, sold out building, on NBC, but I thought he handled it really well."
One other area of praise worth mentioning in the first game is the "new and improved" Zac Rinaldo. He may have been quieter than usual on the ice, but that's actually a positive for the team. He stayed out of the box, delivered strong hits and played well in the offensive zone.
Special teams needs some work, as the penalty kill was 2-for-3 and the powerplay went 0-for-5. Laviolette praised the first powerplay unit, which features Jake Voracek and Kimmo Timonen on the points, but noted that "the second unit is new and might take a little bit of time." The second unit featured Andrej Meszaros and Kurtis Foster on the points.
In spite of the score, Bryzgalov appeared focused and dialed in for the duration of the game, stopping 24 of 26 shots. I'm not worried about him moving forward as much as I am with the collective balance of the offense.
It's only been one game, but with a shortened season, every lost two points is going to hurt the team in two months.
For the latest Flyers news and updates, you can follow me on twitter (@JoshJanet).