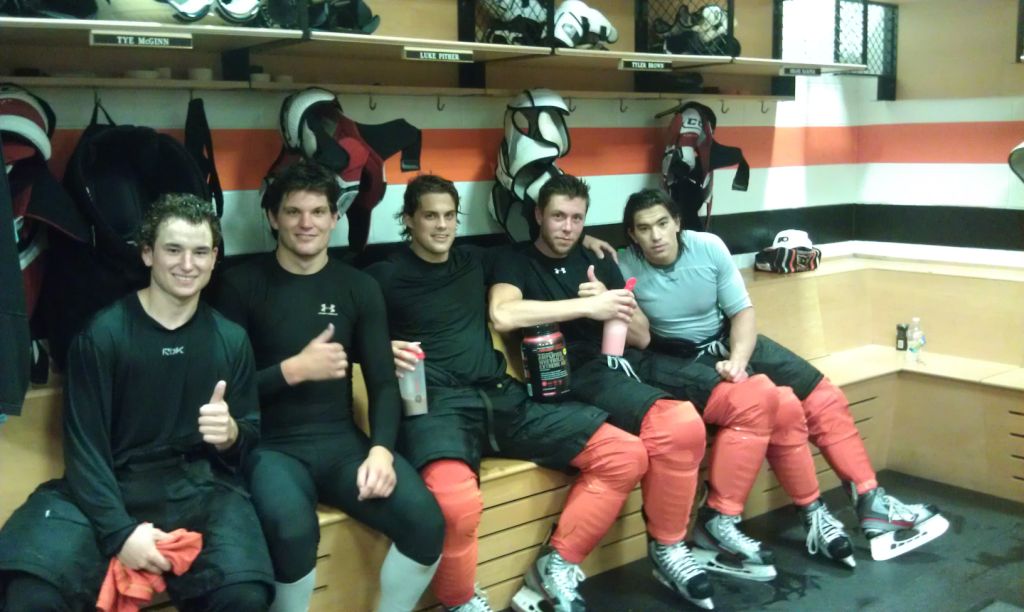 Zac Rinaldo took three shifts in the first period and two shifts in the second period against the Buffalo Sabres on Sunday before leaving the game with a skate laceration in his thigh.
With the news that Rinaldo will be out of the Philadelphia Flyers' line-up until Saturday at the earliest, the Flyers have recalled prospect Tye McGinn from the Adirondack Phantoms.
McGinn, a fourth round pick of the Flyers in 2010, will likely be making his NHL debut tomorrow night at the Prudential Center.  McGinn has gained favor in the organization's views following his improved production this season with the Phantoms, where he spent the first half of the season as Brayden Schenn's line-mate.
During the 2011-12 season, McGinn tallied 12 goals and 18 points in 63 games played.
In the 2012-13 season, McGinn has 11 goals and 15 points in 33 games played to date.
McGinn's bread and butter is setting up in front of the net and cleaning up the garbage in front. He's not known for his speed, skating, or defensive play, but he provides above average finishing abilities to the fourth line.
McGinn is also known to drop the gloves from time to time. According to Hockeyfights.com, he has nine career fights in the AHL.
It's not surprising that Jody Shelley isn't the immediate choice to take Rinaldo's place, but it would be odd if Tom Sestito did not play either tomorrow or Thursday. The organization elected not to place Sestito on waivers in either the fall or the beginning of the 2013 NHL season, which would be required for him to play with the Phantoms.
If he isn't going to gain the opportunity to prove his value, he's wasting contract space in the pressbox.
Whether McGinn or Sestito plays tomorrow, it will be interesting to see how either player performs.
For the latest Flyers news and updates, you can follow me on twitter (@JoshJanet).