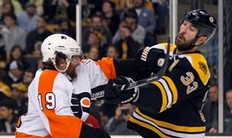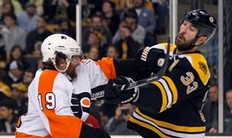 The Philadelphia Flyers announced this evening that upon reviewing Scott Hartnell's test results, he is expected to miss the next four to eight weeks with a broken left foot.
Four weeks would see Hartnell return on February 21, resulting in 15 missed games in the 48-game season.
Eight weeks would see Hartnell return on March 21, resulting in 27 missed games in the 48-game season.
In short, he's missing anywhere from a quarter to half of the season.
Flyers general manager Paul Holmgren told reporters that he would "explore the trade market to replace Hartnell."
According to Sam Carchidi of the Philadelphia Inquirer, though, the Flyers have officially signed Mike Knuble as his replacement.
Knuble, 40, had been playing on an AHL contract with the Grand Rapids Griffins.
Two seasons ago, Knuble potted 24 goals and 40 points with the Washington Capitals. Last season, though, Capitals coach Dale Hunter either kept him on the fourth line or made him a regular healthy scratch.
Knuble certainly plays a similar role to Hartnell. It's just unknown at this time how much he has really slowed down with age, if at all. At the very least, he brings about a veteran presence that could further help the development of the youth on the team.
For the latest Flyers news and updates, you can follow me on twitter (@JoshJanet).