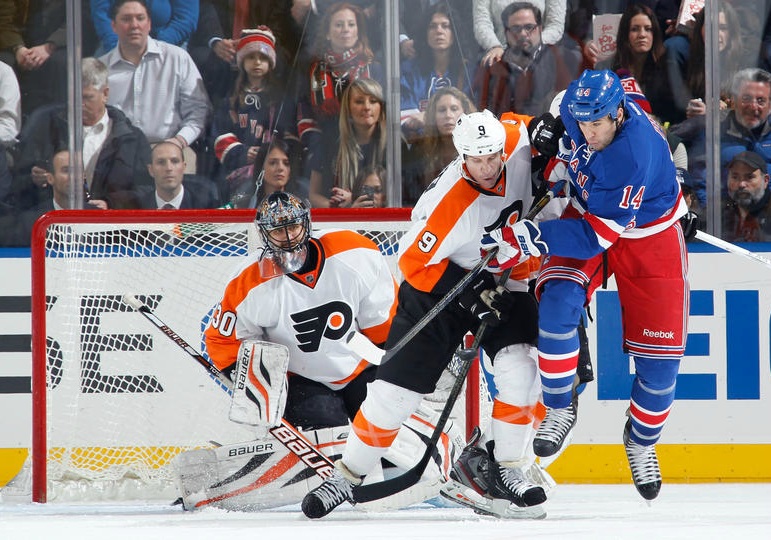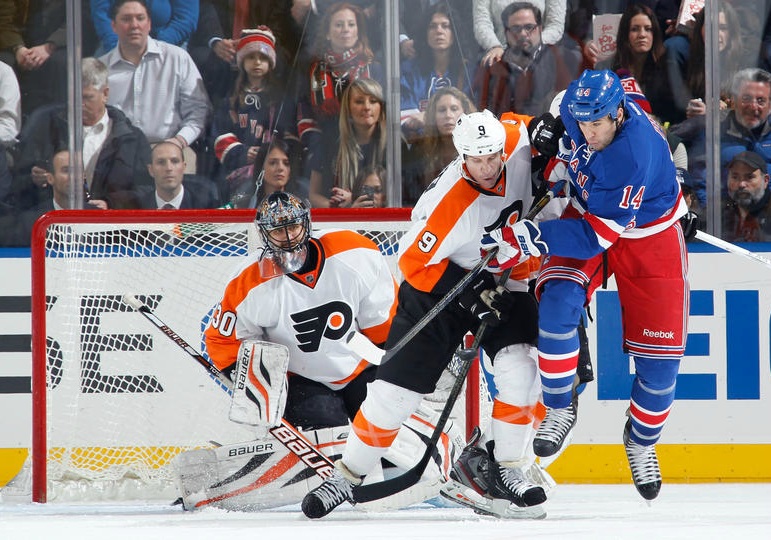 The silver lining of the Philadelphia Flyers' season to date is that Ilya Bryzgalov has performed like a confident starting goaltender should. He ranks 8th in the NHL in goals-against-average among goaltenders with at least four games played.
It's a shame that the offense can't support his efforts.
There was optimism heading into tonight's game against the New York Rangers that the Flyers, coming off a day of rest, would be able to follow up on their first win of the season against the Blueshirts with a second.
Sadly, the team that seemed disinterested in Tampa Bay on Sunday was the same that showed up at Madison Square Garden.
The Rangers were able to get on the board early in the first period. A low shot from defenseman Michael Del Zotto through traffic beat Bryzgalov near the post.
Bryz settled in after that goal, stopping 26 of 28 shots in total.
The defense, which included Andreas Lilja in his first game of the season, also played decently. Braydon Coburn carried the puck in deep better than some of the top six forwards did and Kimmo Timonen provided the lone goal on the powerplay (which never would have happened without the support of Wayne Simmonds).
The offense is just a mess. Few players were able to consistently carry the puck in and rarely did the puck cycling make its way outside of the zone perimeter.
The lone shining star was Danny Briere, who accounted for 10 (!) of the team's 27 shots on Henrik Lundqvist.
Brayden Schenn, who has been nonexistent this season, finished with three blocked shots, three hits and a 27% face-off success.
The team as a whole won just 34% of their face-offs.
The powerplay, which was afforded six opportunities during the game along with nearly two minutes of 5-on-3 time (arguably 5-on-2 as one player broke a stick), only connected once. The Rangers' penalty kill made it clear that neither Jake Voracek nor Claude Giroux should be on the points, as both turned over the puck on multiple occasions when pressured.
Voracek took just a single shot on the powerplay, preferring instead to pass the puck, even if there were no open lanes.
The rule of thumb is that a good team will get at least one shot on net every 30 seconds on a powerplay. At this high standard, the Flyers should have had 24 shots on net on the powerplay. They finished with 7 (or roughly one shot per 2:00 attempt).
Assuming he's healthy, Kurtis Foster will likely be back in the line-up on Friday versus the Capitals and will man the point on the second powerplay unit. Foster is not the preferred choice for that role, but he's the best option that the Flyers have.
Head coach Peter Laviolette gave the team Monday off to relax. A bag skate is probably in order after this debacle.