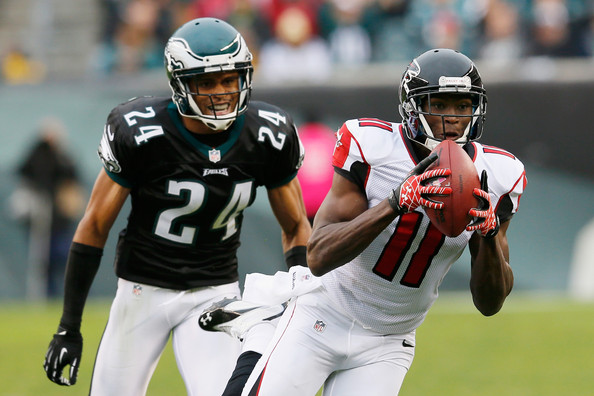 I have heard and read various opinions concerning whether the Eagles should hang onto or release last year's starting cornerbacks Nnamdi Asomugha and Dominique Rodgers-Cromartie.  I believe Chip Kelly has got to get rid of both of them.
There's nothing that poisons a young team more than highly-paid, talented players, who set poor examples by either not giving maximum effort on the field or off of it.
Rodgers-Cromartie is as talented as any cornerback in the NFL, but he has a tendency to fall asleep mentally during games and he gives subpar effort at times.  I've never heard him give an exhaustive scouting report on upcoming wide receivers.  He's always known that he can make a lot of money with his physical skills alone, so he's never decided to put everything he has into being the best player he could be. DRC's picture should be in the dictionary by the word lackadaisical.
Asomugha seems to be more interested in his off-field endeavors than football.  It's as if football is a part-time job for him.  It's like it was his side hustle.
Although he was the most-celebrated veteran defensive back they had on the roster, he never took the time to spend time with the younger players to make sure everybody was on the same page on every coverage and in every situation.   Nnamdi was too busy going somewhere to meet with a politician or to make a speech.  The veteran corner has lost a step or two and can't run with many of the speedy wide receivers in the league.
The Eagles must change the defensive culture on this football team.  They've got to have total commitment from everybody who puts on a uniform and is playing defense for the Birds.  Poisonous attitudes must be eliminated and that's why Nnamdi and DRC must be shown the door.
That's also one of the reasons the Birds must take a long look at Alabama cornerback Dee Milliner, who is supposed to be the best corner in this year's class.
Nobody could understand why during the BCS Championship game, the Notre Dame offense was attacking Milliner.  It made no sense and he made the Fighting Iris pay for their foolish game plan.
Milliner is considered the best cornerback in this year's NFL draft and he's expected to go early in the first round because he's an all around cornerback, who can do everything needed as an NFL cornerback.
He is listed at 6'1″ and he weighs about 200 pounds.
He's got the speed, size, and quickness to be a top NFL cornerback.  Milliner has a physical style and should flourish when allowed to move up into "press" technique where he can be aggressive with wide receiver.
He's very technically sound.  The youngster has been groomed to play a NFL style by former NFL head coach and defensive coordinator Nick Saban, so he knows how to play all of the coverages which are prevalent in the league.  I also like the fact that he comes from a football culture where football is a religion.
When rebuilding a team, you must have players who value the game and desire to be great.