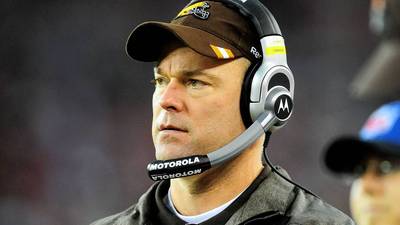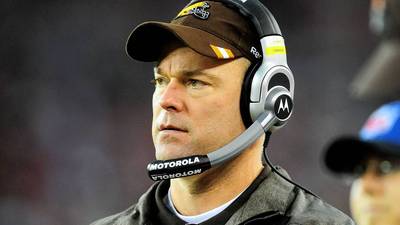 I got the chance to talk to Eagles new defensive coordinator Billy Davis today and he wasn't given us much when it came to what exactly he planned on doing with the team's defensive personnel.  He talked in generalities about having a defense, which will be on the attack.  Not necessarily blitzing all the time, but putting the pressure on the offense.
The coach said the Eagles defense will try to destroy the timing and rhythm of each offense it faces.  He said they will be aggressive tacklers, who communicate well and limit the mistakes.
He talked about the advantage of playing a 3-4 and not playing a 4-3 because the offensive line has more trouble deciphering where the pass rushers are coming from in a 3-4 rather than a 4-3.  In the 4-3, they know they must block the four defensive linemen, but in a 3-4 there are more options of who you send after the quarterback and who drops into coverage.
I would put money on them playing that 4-3 under with the weakside defensive end up in a two-point stance, like a linebacker, which makes a 3-4 defense.
I asked the coach about specific defensive players, starting with Fletcher Cox.  My question concerned whether he thought Cox would be a good three-technique defensive tackle in that particular defense.  He was all on board with it.
"Fletcher Cox could probably do a good job at all the defensive line positions, but yes he would be an outstanding three-technique defensive tackle", Davis said.
I also asked him about Mychal Kendricks seeming to be a linebacker who would fit the the WILL linebacker position for him in his 4-3 under defense with a 3-4 look.  Davis said it was too early for him to give any definites about who was going to be where on the defense, but he said he could see Kendricks playing that WILL position.
"You want a speedy athlete like Kendricks playing that position", Davis said.  "I had Daryl Washington in Arizona and lost Karlos Dansby before him, but that WILL linebacker position is for running around and making plays".
According to Davis, the Eagles defensive staff is putting together their playbook and haven't decided exactly what they're going to be doing, but they will be attacking.  Get ready for that defense I told you about because that's what they'll be playing.  It's one of the major reasons he got the job.